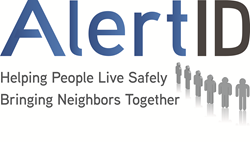 AlertID continues to grow across the country and now helps families in more than 134,000 neighborhoods protect themselves, their families and their communities
Las Vegas, NV and San Francisco, CA (PRWEB) February 03, 2015
Neighborhoods across the United States just got a lot safer thanks to significant expansions to AlertID's coverage area. The free mobile app and web-based service delivers peace-of-mind to users who can easily receive information on crime, sex offenders, health threats, natural disasters and inclement weather in their area with just a few clicks or taps. Whether traveling across the country, or checking out a new jogging route in town, AlertID users can arm themselves with information to ensure safe and stress-free experiences.
AlertID now has:

Members in more than 134,000 neighborhoods across the country, up from 121,000 1 month ago
Sent more than 245 million safety alerts through its secure and private platform
More than 500,000 safety alerts sent every day
More than 300 million safety records that help protect families
"AlertID continues to grow across the country and now helps families in more than 134,000 neighborhoods protect themselves, their families and their communities", said Ken Wiles, co-CEO of AlertID. "We are grateful that AlertID can help so many neighbors share information, receive alerts about important public safety information and build a sense of community that we often miss in our increasingly hectic and fast paced lives."
About AlertID:
AlertID is the fastest growing neighborhood focused safety network that is free to use and helps protect families and neighborhoods. A virtual neighborhood watch for the 21st century, AlertID's mission is to help members live safely by providing a secure way to receive trusted public safety alerts and share information with family and neighbors.
AlertID uses proven technology to helps citizens and federal, state, and local authorities share information about crime, sex offenders, natural disasters, missing children and severe weather that can threaten public safety. AlertID is accessible to members online as well as by email and mobile app. For more information, visit http://www.AlertID.com.