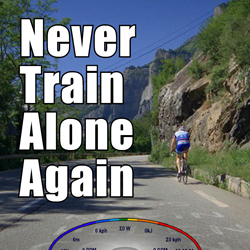 Real-life cycling is a very social activity and that's what our new training software delivers.
Toronto, Ontario, Canada (PRWEB) February 04, 2015
VeloReality President Gary Bauer today announced the launch of an open beta program for VeloReality's VRide Multi -- the company's new on-line, multi-rider Real Life Video (RLV) software. With over 2,000 kilometers of world-famous courses to train on, the VRide Multi software features synched, cinema quality full HD video rather than going for a more game-like VR experience, and works with a growing list of indoor trainers.
The new multi-rider software lets users go on-line and join groups of other riders, or pass them, or otherwise enjoy the competitive camaraderie of riding with friends. "In real life, cycling is often a very social activity and that's what our new training software delivers," explains Bauer. "No more riding alone outdoors in the numbing cold, or riding alone numbingly bored on a resistance trainer in the basement. Now riders can blow past riding buddies along bucketlist roads like the Koppenberg, Ventoux, Zoncolan, Stelvio, l'Alpe dHuez, or any of 60 world-famous rides, all filmed in the highest quality in the industry."
With the new on-line multi-rider RLV set-up, each person riding the course will be able to log on and be identified by their own 3D avatar and screen name, showing their real-time speed and position on the course. Riders can see each other using an embedded map view that shows all of the riders who are riding the course in real time. Riders can enter or leave the course at any time, anywhere on the course. In the event that no other 'real' riders are online on the user's course of choice, there are pacers & avatars of other riders who perpetually cycle the course for a little competitive company.
VRide's embedded map identifies each one of the VeloReality RLV rides in the users screen. These are colour coded to show which rides are being used by active riders. If the rider already owns any RLV showing other active riders, he or she just selects it to join the others wherever they may be on that course. If they do not own the ride in question, these may purchased from velorality.com
Individual RLVs, 20 packs and the 60 ride collection on a "Plug & Ride" Hard drive are also available for download along with no-cost demo rides and software, instructions, help and links.
VeloReality's VRide Multi software and three demo rides are available with no charge to the user for a limited time. They have plug-and-play usability with the Lynx VR Trainer, the Wahoo KICKR , the Computrainer, as well as many other ANT+ resistance trainers. The VRide software runs on a Windows 7/8 64bit PC or laptop paired with an ANT+ dongle.
To try out a personal copy of VRide Multi, download the software and a demo video from the website. Next, click on the 'VRide Net ID' button inside the software settings, then enter and submit personal account information. Once registered, all beta users will become visible to other registered riders when they are training on any course in the VRide RLV collection.
###
For more information, please contact us:
Gary Bauer 1-888-480-1114 ext. 1
gary(at)veloreality(dot)com
VeloReality is the privately-held maker of VRide software, the VRide RLV library and VRide Multi On-line group rider software. VeloReality also manufactures and markets the high end LYNX VR Trainer which has unmatched road feel and comes with a limited warranty on electronics and a lifetime warranty on drive-train and software components. With a growing library of the world's most famous courses, the reality offered by the combination of LYNX and VRide is unmatched. VRide software is also compatible with any ANT+ resistance trainer.