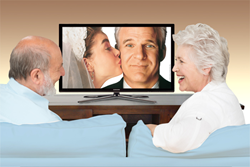 Touchtown Digital Entertainment is a solution for senior resident communities that provides quality entertainment without violating copyright law.
Oakmont, PA (PRWEB) February 03, 2015
Touchtown Inc. has announced a new product, Touchtown Digital Entertainment™, that brings affordable, legal, high quality digital entertainment to senior living communities across North America.
Partnering with Swank Motion Pictures, Touchtown has developed Touchtown Digital Entertainment to greatly improve the resident experience in senior living communities and help to build census. Touchtown Digital Entertainment simplifies the delivery of popular movies and TV shows to residents while ensuring senior living providers are in full compliance with U.S. copyright law.
"The best way to build census in a senior living community is to offer residents a great everyday experience," says Jeff Pepper, CEO of Touchtown, "and entertainment is an important component of that experience. But it's also important to deliver entertainment in a way that doesn't violate copyright law. It's often difficult for senior living providers to do this because of the complexity of the law and the vast number of studios offering movies."
Touchtown now has a solution that solves this problem easily and affordably. Customers can use Touchtown Digital Entertainment to increase resident satisfaction and engagement through high quality digital movies and TV shows that can be accessed with little effort, at low cost, and in 100% compliance with copyright law.
Touchtown Digital Entertainment consists of a library of 80 or more licensed movies and 30 classic TV shows, updated quarterly with fresh selections. The library is digital, eliminating the hassle for senior living communities to obtain DVDs and videotapes while also preventing them from accidentally showing video content in violation of copyright law. Senior living communities are able to have this digital content delivered to their residents in two different ways:

Touchtown Digital Entertainment on a dedicated movie channel
Touchtown Digital Entertainment in common areas
Complying With Copyright Law
Many senior living providers show movies to residents, but they are in violation of the U.S. Copyright Act if they do any of the following: (1) obtain the movie illegally, (2) charge admission, (3) advertise the movie outside their community, or (4) show a movie from a studio that's not covered by the community's public performance license or is not in the library of their Touchtown Digital Entertainment system.
For example, if a community rents a movie from Netflix, Redbox or any other video rental company and shows it to their residents, they could be in violation of the Copyright Act because the studio that produced that movie may not be covered by a public performance license. However if they select any movie from the Touchtown Digital Entertainment library, they are automatically in compliance.
Non-compliance with the Copyright Act carries steep and significant penalties for both the exhibitor and anyone that contributes to the infringing conduct. Unlicensed public performances are federal crimes and can be subject to a $150,000 penalty per exhibition and other penalties.
To learn more about how to share award-winning movie titles that will boost residents' experience and build census while ensuring copyright compliance contact Touchtown today at 866-868-2486 or inquiry(at)touchtown(dot)us to receive additional information and schedule a personal demo.
About Touchtown Inc.
Touchtown delivers transformational technology solutions to the senior living industry. Using Touchtown products gives owners and operators the power to unify and touch their entire community – residents, staff, prospects and families – through an integrated set of resident communication solutions.
Touchtown's products are used in over 1,000 senior living communities, where they keep residents in touch through interactive apps, private channel TV, digital signs, calendars, and websites. Touchtown's mission has remained unchanged since 1999: to make a difference in the quality of life for seniors and their families, and to provide it in a way that makes business sense for senior living providers. We provide value to our customers by improving operational efficiency, extending marketing reach, and enhancing the quality of life in their communities.