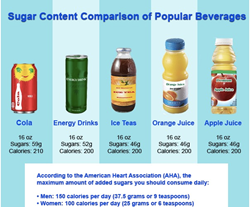 There is a strong implication that the consumption of sugary drinks may have a very real impact on breast cancer rates
(PRWEB) February 02, 2015
To see the infographic and accompanying story originally published on Empowered Doctor, click here.
The connection between consumption of soda, lemonades, energy drinks and fruit juices – all of which have large amounts of sugar – to the risk of developing breast cancer later in life was indirect, but significant.
Researchers have observed for quite some time that the age of menarche – the time when pubescent girls have their first period – is becoming lower in developed countries.
Many other studies have linked changing diets as a primary cause of the falling age of menarche. These studies document a gradual, but accelerating shift, especially so in the last 20 years.
The Harvard study concludes that higher sugar intake – and in this case related to sugary drinks, especially sodas — is a possible culprit. Drinks with added sugar have been found to increase the body's insulin concentration, which in turn ups the amount of sex hormones (estrogen and progesterone) in girls. The difference of between the onset of periods of high sugar drinkers and girls who drank less sugary drinks was only a few months. However, the large number of subjects studied made the data significant.
The other part of the story is that there is also a well-established link between age of menarche and increased risk of breast cancer later in life. Each year earlier that menarche begins, increases the risk of breast cancer later in life by 5%. So while not conclusive, there is a strong implication that the consumption of sugary drinks may have a very real impact on breast cancer rates.
As a culture we are becoming more aware of the dangers of sugar consumption. So it is good to also recognize that even what we previously considered to be "healthier drinks", such as orange or apple juice, are also loaded with sugar. The Harvard study did recognize the difference though, pointing out that the drinks like colas with added sugars, have a higher glycemic rate – and thus more likely to result in insulin spikes than drinks with only natural sugars.
Journal Reference: J.L. Carwile et al. Sugar-sweetened beverage consumption and age at menarche in a prospective study of US girls. Human Reproduction, 2015 DOI: 10.1093/humrep/deu349
http://humrep.oxfordjournals.org/content/early/2015/01/16/humrep.deu349
Released: Wednesday, January 28, 2015, 3:25 PM