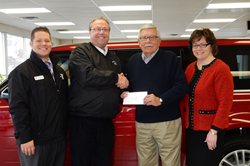 In Picture from Left: Luke Kantor from Lockport Family YMCA & Camp Kenan. Michael Landers Howell Motors Ford President. John Zieziula Camp Happiness Director and Lockport Elks Lodge #41 Treasurer. Kellie Spychalski Opportunities Unlimited Director & CEO.
Lockport, NY (PRWEB) February 03, 2015
Howell Motors Ford is proud to announce their continued support of Camp Happiness of Niagara County. The Lockport Ford dealer has recently donated to the program for the third year in a row. This year, Howell Motors Ford donated $10,000 to Camp Happiness.
Howell Motors Ford began donating to the program as part of Go Forward with Ford Fusion Night, an event at which the new design of the Fusion was rolled out. For every person that came to the dealership that night, Howell Motors Ford made a matching gift donation and chose Camp Happiness as the beneficiary. Mike Landers, owner of Howell Motors Ford, is a proud parent of a camper at Camp Happiness and Opportunities Unlimited.
Camp Happiness is a one-week day camp for people aged 12 to 90 years who have intellectual or developmental disabilities. Since 2008, The Elks National Foundation has, in part, funded the camp. In-kind services are provided by the Lockport Family YMCA, Opportunities Unlimited of Niagara, and Lockport Elks Volunteers.
The camp, at Camp Kenan on Lake Ontario, gives participants the opportunity to experience a variety of fun activities, including hiking, archery, fishing, swimming rock climbing, campfire time and arts and crafts.
"We are proud to keep this great project alive," said Landers. "We are fortunate for the Elks giving grants to help support this phenomenal program. Their work to fundraise did so much to support this program financially. As a parent, brother Elk, and member of the community, it is my pleasure to support and help make this program thrive. Hopefully this donation will help extend this project into the future and keep cost down for campers."
For more information about Camp Happiness, visit their website at http://camphappiness.org/.
About the Company:
Howell Motors Ford dealer has served Lockport, NY since its relocation from Newfane in 1988. A company that has been around for a century (founded in 1914), Howell Motors Ford is the finest new and used car dealer in the area. Featuring a full range of customer service and auto repair options, Howell Motors Ford has built a reputation that has lasted because of the full range of service and quality of cars they sell. They offer new Ford cars, crossovers, SUVs, trucks and more. For the best service and finest products, look no further than Howell Motors Ford, one of the oldest Ford dealerships in the country. Howell Motors Ford: "Where Friends Send Friends"