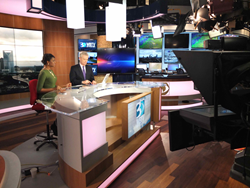 In all my years in broadcasting this is the best looking and most functional set I've put on to date
(PRWEB) February 03, 2015
In a modern, growing city such as Charlotte, the best in technology and design feels right at home. This is exactly the reflection of the multi newsplex set at Raycom Media station WBTV. Packed with technology and style, the new studio sets WBTV apart in the market and in the state.
From the start, WBTV and Raycom wanted a bold design that presented news in an environment that was modern, clean and yet familiar to their viewers. There were several conditions to be met in the fast paced newscasts that WBTV is known for: warm, inviting and technologically advanced. All of that was achieved in the new studio from FX Design Group that debuted February 2, 2015.
"The set looks absolutely top notch, but the immense technology at our fingertips, including the Virtual Studio from Hybrid TV, enhances every opportunity for news and storytelling," said Dennis Milligan, WBTV News Director.
FX Senior Designer, Kevin Vickers, used his architectural skills, as well as design skills, first putting viewers in an environment that felt grounded and comfortable. From there he began carving out multiple areas for talent to present from, which incorporated a range of technology that includes a large 4x6 NEC array controlled though TV One's CORIO Master Mini video system that serves as both their main backdrop and standing presentation area. There is also an 80" monitor for reporters to use, as well as a 90" screen for the weather team which includes a working weather office that is flanked with six large 55" Sharp monitors and one 46" NEC for traffic. Additionally, Digital Video Group was the integration partner and provided all of the aforementioned showpiece monitors as well as 28 46" monitors.
"In blocking our first shows and test runs, we absolutely couldn't find a bad shot," said WBTV CSD, John Rice. "When a designer incorporates that flexibility, you have a beautiful set, but the function is front and center."
The set also includes color changing LED lights that help mood-brand the shows and stories being told, giving them needed flexibility throughout the different broadcasts and special events. Delivering all of this in a circular environment allows the production team to shoot from anywhere in the studio without having to worry about large traveling distances for cameras while maintaining quality shots of the talent.
The station wanted to continue its trend of embracing the latest technology by incorporating a Hybrid Virtual System. The environment needed to feel like an extension of their hard set and give them multiple positions for presentation. It uses a similar layout and materials, but also lends itself to invention and imagination in producing content beyond regular newscasts.
The details, even down to the multi wood parquet, and the gorgeous inlay design show off the architecture and follow the circular environment so that they eye easily moves from shot to shot.
"In all my years in broadcasting this is the best looking and most functional set I've put on to date," said Nick Simonette, Regional Group Vice President/General Manager at WBTV, at Raycom Media Company.
# # #
About FX DESIGN GROUP:
FX Design Group is a design company delivering projects worldwide in broadcast for News, Talk Shows, Lifestyle, Sports and Entertainment programming. FX gives clients access to a complete compliment of set design, virtual design, motion graphic design and branding, fabrication and installation services, as well as lighting design and lighting gear – all from one source. The FX collaborative process focuses on creative synergy, versatility and logistical efficiencies to maximize clients' budgets, aesthetics and multi-functionality. To learn more about FX Design Group please visit http://www.fxgroup.tv.
About Hybrid
Hybrid is a leading manufacturer of broadcast production technologies. The company's mission is to develop solutions and products that allow the digital media market to produce value-added content within an integrated workflow. Our product range includes virtual studio and augmented reality solutions and broadcast robotic camera supports. Hybrid consistently develops new products and solutions that push the limits of content creation while providing a clear rationalization of costs. Further information is available at http://www.hybridtv.tv.
About WBTV
WBTV is owned by Raycom Media, Inc. Raycom, an employee-owned company, is one of the nation's largest broadcasters and owns and/or provides services for 53 television stations in 37 markets and 18 states. Raycom stations cover 13.1% of U.S. television households and employ nearly 4,000 individuals in full and part-time positions. In addition to television stations, Raycom owns Raycom Sports (a marketing, production and events management and distribution company), Tupelo-Honey Productions (a NY-based production company), Limerick Studios (a Charlotte, NC-based motion graphics design house), and Broadview Media (a post production/digital signage company based in Montgomery, AL). Raycom is also responsible for the design and hosting of Alabama's Robert Trent Jones Golf Trail website. Raycom owns over-the-air syndication, regional cable, and digital media rights to Atlantic Coast Conference Athletics.