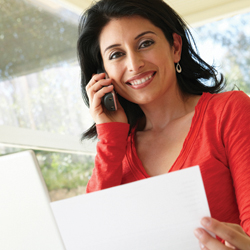 (PRWEB) February 04, 2015
"Motivating, inspirational, entertaining—a fantastic course! Thank you!" — R. Nairn, recent conference participant.
SkillPath Seminars, the nation's leader in business skills training since 1989, is excited to announce a one-of-a-kind women's workshop coming to the area. The Conference for Women goes beyond improving professional skills—it's a day-long event designed to help women shape their dreams, achieve their goals and experience positive results in their careers and their lives.
SkillPath believes the most successful, confident women have direction in their lives. They're assertive and powerful, expert communicators who are never at a loss for words; they've established a creative and energizing environment for themselves; they're brimming with self-esteem and refuse to fail. The seminar developed to point others in that direction, The Conference for Women, is now taking enrollments. It's an opportunity to learn new skills, rekindle professional passion, recharge batteries—and also network with like-minded local women who possess the same ambitions and drive to succeed.
Who will benefit from this course? Any professional woman—from front-line employees to executive assistants, supervisors and higher-ups—interested in learning how to boost her career, overcome personal and professional challenges, and manage and enhance her life.
Participants in this powerful workshop will have a variety of breakthrough sessions to choose from—presented in a unique, mix-and-match format that allows each attendee to build her own specific day of training from among 10 information-packed modules grouped into 2 major tracks. Each topic has been developed by women and is presented by women—highly experienced and acclaimed experts in the keys to personal and professional success.
"I attend this conference every year and this year's was the most enjoyable one yet!" — C. Belt.
This workshop's highlighted sessions include: Are you doing what you love—or even loving what you're doing? … A brand-new you—assertiveness skills that lead to success … Keep your emotions from running the show … How to say the right thing in tough situations … How to stop difficult people from ruining your day … Personalize your work space to feed your spirit … Presenting yourself as a women who's going places … and much more! The focus is on giving attendees the right attitude, the right plan, the right tools and the right opportunities to reach their highest potential.
"Exceptional seminar and well worth the time spent. Dynamic teachings and live instructions that can be used from 9 to 5 and beyond. I loved it!" — J.J. Sanders
The cost of this one-day event is $149. Enrollment can be done by phone, e-mail or on-line. To sign up for classes or for more information on The Conference for Women, see http://www.skillpath.com. SkillPath also offers local seminar updates and special e-mail only discounts at http://www.skillpath.com/?emr.
About SkillPath Seminars:
SkillPath provides practical, convenient training opportunities for businesspeople who are ready to retool and recharge their professional careers. SkillPath's unique brand of training enhances skills, saves time and money and contributes to career and organizational success. SkillPath's public seminars, customized on-site coursework and take-away training resources keep careers on the grow. With more than 10 million people trained since 1989—at Fortune 500 corporations, small businesses, government agencies and not-for-profit organizations—they promise a great learning experience at each workshop or training conference. Their 100% money-back guarantee is proof of their commitment to everyone's success.