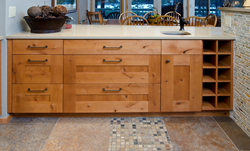 Thinking about new cabinets or flooring? Manufacturers now offer more sustainable choices.
Portland Oregon (PRWEB) February 04, 2015
Neil Kelly Company, an award-winning design-build remodeling firm, announces 10 steps homeowners can take to improve the overall health of their home. A recent Houzz.com study reveals 1 in 4 homeowners are unaware of major health hazards in their homes (Healthy Homes Trends Study 2014).
In addition to energy savings, making home performance improvements can enhance indoor air quality. A New Zealand study revealed homeowners who made home performance upgrades also enjoyed many health benefits due to improved indoor air quality. For participants, hospital admissions for respiratory problems dropped by 43 percent, school absences dropped by 23 percent and missed work days decreased by 39 percent (Warm Up New Zealand 2012).
Here are 10 steps homeowners can take to make their homes healthier:
Tip #1: Say No to Noxious Gases: Radon and Carbon Monoxide are two gases found in homes across the U.S. Both are colorless, odorless and deadly. It's inexpensive and easy to have a home tested for radon, and is especially important to have a carbon monoxide detector mounted according to manufacturer's specifications, if there is an attached garage.
Tip #2: Go Formaldehyde-Free: Thinking about buying new cabinets or flooring? Some manufacturers now offer more sustainable choices that let you bypass formaldehyde and other toxic chemicals. Neil Kelly Cabinet Company's products feature FSC-certified materials, and low VOC eco-friendly glues, adhesives and finishes.
Tip #3: Get the Lead Out: For homes built before 1978, there is a chance at least one layer of paint may include lead. There are several major health reports linking elevated levels of lead in the 1970's to violent behavior. Lead may be expensive to remove, but can be tested for quickly and easily.
Tip #4: Move Your Cans: Cans of paint, pesticides, and herbicides… need to go. Optimally, they should go to a licensed recycler, but until that time make sure they are—at a minimum—not in the home. In other words, time to move the cans to the shed.
Tip #5: Do You See the Light? In the recent healthy homes study on Houzz.com, healthy homes were better lit than "non-healthy" homes. When it comes to natural light and artificial light, a home that's considered to be healthy will have more of both kinds of light.
Tip #6: Consider Flooring: There are some rooms where wall-to-wall carpet is a perfect fit. However, if left unmaintained, a carpet can act like a giant sponge. Most carpet manufacturers require carpets to be cleaned twice a year—and ignoring that advice will void the carpets' warranty. Increasingly, many homeowners are going with hard surface floors and then using an area rug. The area rugs can be pulled up and cleaned more thoroughly.
Tip #7: How Tight is Too Tight? Newer homes are built much tighter than their Pre -WWII counterparts, and at first that seems like a good thing. However, if there are toxins in the home the lack of ventilation can be a problem. A home should have a certain number of "air exchanges" every hour. In other words, all the air that's in every room has to be "changed out" and replaced with fresher, conditioned air. Consider having a Neil Kelly Company HVAC expert or another certified BPI Gold Star Contractor ensure your home is meeting its minimum number of fresh air exchanges per hour.
Tip #8: Change the Batteries and Do the Drill: Most people know they should change the batteries in smoke detectors twice a year (unless they are ten-year batteries). But for those with young children, many forget to teach them how smoke detectors work. It is surprising how many kids will actually sleep through a blaring alarm that is going off inches from their head. Education is cheap and can be lifesaving. Teach kids that a smoke alarm means business.
Tip #9: Bypass the Gas (leak): Purchase a gas shut-off valve to ensure safety in the event of an earthquake or natural disaster. Knowing the location of the main service shutoff can also help homeowners turn off the natural gas supply quickly if a gas leak is suspected inside the home and the shutoff valve is located outside the home.
Tip #10: Change the Filter: This is easy, takes about ten minutes and costs less than $50.Change the furnace filter twice a year. It is likely to be covered in dust, hair and dead dust mites. This step will help reduce the heating bill and also improve the smell in a home.
About Neil Kelly Company
Neil Kelly Company, the largest residential design-build remodeling firm in the Northwest, helps homeowners care for all aspects of their homes. Services include custom homes, award-winning design-build remodeling, energy upgrades and home repairs big and small.
Neil Kelly is proud to be a certified benefit company (B Corporation) and seeks to be a caring corporate citizen in everything that it does. With five Pacific Northwest locations in Portland, Lake Oswego, Eugene, Bend and Seattle, Neil Kelly is renowned for its innovative design and remodeling services, quality craftsmanship and sustainable building practices. Homeowners are invited to visit Neil Kelly design centers or attend free educational workshops. Visit http://www.neilkelly.com.
###