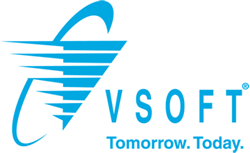 It has definitely been a huge success. VSoft's flexibility, multiple deployment options, and ability to solve unique business problems helped us deploy a truly amazing mobile RDC solution
Atlanta, GA (PRWEB) February 03, 2015
Security Service Federal Credit Union, located in San Antonio, Texas, has over 900,000 members and $8 Billion in assets making Security Service the largest credit union in Texas and the 8th largest in the United States. Security Service focuses on member service ensuring member satisfaction is a top priority. Security Service expanded their self service channel by offering mobile deposit capture. Since the introduction of the ATM, rapid advances in self-service banking have played crucial roles in the growth of financial institutions. Now, more than ever, today's consumer does not find it necessary to walk into branch locations to make deposits, transfer funds, or check balances. Mobile banking is currently at the forefront of the self-service banking revolution.
Security Service required a Mobile RDC solution that would integrate well with their banking system without sacrificing their high security standards. After a great deal of research, Security Service chose VSoft Corporation to implement a truly revolutionary Mobile RDC solution.
Since adding VSoft's Mobile RDC technology, Security Service has seen immediate benefits resulting in improved service, reduced cost and greater efficiency. Better than expected adoption rates from the credit union's diverse member base has reduced the foot traffic in the branch system, which translates into cost savings on multiple fronts.
CHALLENGES AND SOLUTIONS
Security and Risk Mitigation
Before Security Service decided on a partnership, they first had to determine what they wanted from a Mobile RDC solution. The credit union assembled an internal cross-department team to determine what specific feature functionality would be important to its members.
Seamless integration and RDC functionality were essential features, but of all the requirements, information security and the credit unions ability to manage risk through this new RDC channel were key factors in their decision process. While the credit union's security and risk management practices are an intrinsic part of their core strategy, balancing risk while offering an excellent member experience is just as key to SSFCU's core values. Security Service needed a robust solution that would integrate with their chosen mobile banking platform while also interfacing to their internal systems and overall workflows, resulting in a secure environment for mobile RDC. Once the business requirements were defined, the credit union then initiated their search for a new mobile banking and RDC solution.
The VSoft Mobile RDC solution supports multiple deployment options to provide maximum flexibility to meet the different requirements that financial institutions may have. Security Service chose to move forward with a "server-to-server" deployment model that achieved their goal of stringent integration with both their mobile banking product and also their risk mitigation business rules. With a "server-to-server" deployment model, the mobile banking application drives the phone camera to capture the image. After the image is created, it is routed to the credit union's Service Oriented Architecture (SOA) for member authentication, entitlement, and application of specific business rules for the depositing member.
The New Technology Learning Curve
Security Service, like many other financial institutions entering the Mobile RDC market for the first time, had limited exposure to this technology and the close dependency of both the Mobile Banking provider and the Mobile RDC vendor.
With the introduction of a Mobile RDC solution, the credit union was faced with learning the technical aspects of integrating multiple environments. A close partnership that was developed early in the project between the credit union, VSoft, and the Mobile Banking vendor proved to be incredibly valuable when making technical decisions such as designing the user interface to include the required messaging layers between vendors.
The credit union's internal project team met the steep learning curve associated with mobile banking technology head on; the team truly embraced the motto "failure is not an option". Getting all of the pieces to fit together was pivotal to the success of the mobile platform and anything short of a remarkable "Member Experience" was simply not acceptable.
Risk Mitigations Through "Know Your Customer"
One of the biggest challenges Security Service faced was determining who should be entitled to use the product and what parameters needed to be set in order to lower risk. They wanted to give availability to most members, but limit availability based on tight RISK controls. Deposit limits, business rules and specific parameters needed to be set in order to lower the amount of risk taken on by the credit union in its roll out of mobile RDC.
Security Service also worked with VSoft to set up profile parameters for who could use mobile capture. Based on historical member data, Security Service's SOA evaluates the account of its members, profiles them based on the evaluation, and sets deposit thresholds for that member. The member evaluation process gives Security Service an additional layer of protection in an effort to reduce the risk of potential fraud.
RESULTS
Since the implementation of VSoft's Mobile RDC platform, Security Service has seen amazing results. "It has definitely been a huge success. VSoft's flexibility, multiple deployment options, and ability to solve unique business problems helped us deploy a truly amazing mobile RDC solution," Pam Harling, AVP.
Mobile capture now accounts for over 44,000 transactions a month and the mobile app has reduced foot traffic in Security Service's branch locations. This shift in member behavior has allowed the Security Service's tellers the opportunity to allocate more time to other member-facing activities.