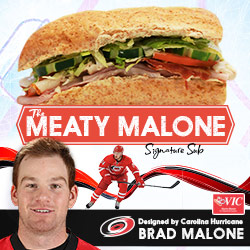 Matthews, N.C. (PRWEB) February 03, 2015
Date: Tuesday, Feb. 10, 2015
Time: 5:30 – 6:30 p.m.
Where: North Hills East Harris Teeter
120-100 St. Albans Dr.
Raleigh, N.C. 27609
Interviews are available. Live shots are welcomed!
Tuesday, Feb. 10, Carolina Hurricanes forward Brad Malone will team up with Harris Teeter to debut his personally designed Signature Sub Sandwich.
Malone's sandwich, "The Meaty Malone," is a must-try for Harris Teeter shoppers. For only $3.99, fans can satisfy their appetite with "The Meaty Malone" which features ham, turkey and bacon topped with lettuce, tomato, cucumber and mayonnaise on a wheat sub roll. Shoppers can make it a lunch pack for only $4.99. The lunch pack includes "The Meaty Malone" sandwich and your choice of one Chocolate Chunk, Macadamia Nut, Oatmeal Raisin or Cranberry Nut Cookie.
"The Meaty Malone" will be available in the Fresh Foods Market Sandwich Shop in all Raleigh-area Harris Teeter stores. Tuesday only, however, Malone will make an appearance at the North Hills East Harris Teeter to personally introduce shoppers and fans to his Signature Sub Sandwich. He will also be signing autographs.
Harris Teeter's Fresh Foods Market offers made-to-order sandwiches and wraps daily and is proud to introduce "The Meaty Malone" as Harris Teeter's third and final Hurricanes Signature Sub Sandwich of the season.
http://www.harristeeter.com
Harris Teeter, with headquarters in Matthews, N.C., is a wholly-owned subsidiary of The Kroger Co. (NYSE: KR). Harris Teeter reported 2013 sales of $4.71 billion. The regional grocery chain employs approximately 26,000 associates and operates stores in North Carolina, South Carolina, Virginia, Georgia, Tennessee, Maryland, Delaware, Florida and the District of Columbia.