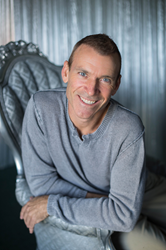 WILTON MANORS, Fla. (PRWEB) February 03, 2015
Since Florida's same-sex marriage ban was struck down on January 5, 2015, wedding bells have been ringing for newly-wed gay couples in Florida and 36 states. For Bobby Kyser, a veteran South Florida-based wedding specialist and Owner of Panache Style, a successful event décor and management company, demand is high in the epicenter of the country's leading gay travel destination.
"My phone hasn't stopped ringing. I have received so many calls from couples in Florida and out-of-state asking me to schedule design consultations," said Kyser. "Many friends and neighbors have been longing for destination ceremonies here in South Florida. Now those dreams are becoming a reality."
Many same-sex couples are eager to exchange vows, making the demand for Kyser's services skyrocket. In addition to being inundated with wedding requests, Kyser has been selected to design and style two historic collective weddings on February 5 and 14. As part of the Greater Fort Lauderdale Convention & Visitors Bureau's "Love is Love" initiative on February 5, 100 LGBT and straight couples from across the nation will be married on the beach during a massive ceremony to mark the landmark for same-sex marriage equality. Former NSYNC member Lance Bass will serve as an ambassador during the sunrise wedding. On February 14, the City of Wilton Manors will offer free marriage ceremonies for 100 people (50 couples) at Wilton Manors City Hall.
A self-proclaimed, high energy workaholic, the Panache Style owner was naturally well ahead of the curve in tapping into Florida's same-sex wedding industry. Last August, Kyser brought hope, style and pragmatism for couples during the first-ever Gay Nuptials, a same-sex wedding expo that showcased top-notch caterers, venues, florists and more.
Kyser shares a long and fabulous history of creating special events and weddings with his highly-acclaimed floral and event designs. Through the success of his event decor company, philanthropic contributions and eclectic demeanor, he has become the go-to resource for wedding planning in South Florida.
For more information about Panache Style, visit http://www.panachestyle.com.