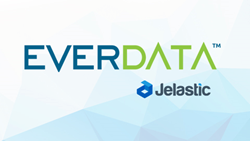 Jelastic Cloud is the only cloud that can scale up vertically and this feature makes it a 'TRUE CLOUD'. Due to these unique features, we are seeing a massive target clientele.
Palo Alto, Calif. (PRWEB) February 04, 2015
Jelastic, Inc., the first company that combined Unlimited PaaS (Platform-as-a-Service) and Container-Based IaaS (Infrastructure-as-a-Service) into one solution, has announced their partnership with EVERDATA, a leading datacenter and hosting service provider based in Jaipur, India.
Gartner recently reported that public cloud services revenue in India will reach $638 million by the end of 2014, an increase of almost 34 percent, or $161 million over 2013 revenue. Public cloud services revenue is driven by high rates of growth in key market segments, namely cloud infrastructure as a service (IaaS) and software as a service (SaaS), two of the largest segments in the public cloud services market. Spending on SaaS will total $249 million in 2014, an increase of 37 percent over last year. Spending on IaaS will grow 33 percent to $77 million during the same period.
Gartner also predicts continuing high rates of spending on cloud services in India through 2018 when the market is expected to reach almost $2 billion. PaaS is forecast to grow to $121 million, and IaaS is forecast to grow to $295 through 2018.
"The region offers huge potential for us and we are confident we will be able to maintain our growth. By partnering with Jelastic, EVERDATA is expanding its operations to meet the demands of cloud customers in India," said Ruslan Synytsky, Jelastic CEO. "This partnership demonstrates the commitment we have to India's cloud market and to EVERDATA, which is our first location in India, and continues to be a vibrant centre for future growth there."
EVERDATA's expertise encompasses platform hosting, co-location services, VPS, dedicated server management, custom-built infrastructure, cloud-based and hybrid services, managed services and disaster recovery & business continuity planning services, data centers & now their latest addition, Cloud India.
"Jelastic Public Cloud launched in India is the first Hindi Cloud Service to be offered to the Indian netizens. Being in the Hindi language, it is easy to use for the majority Hindi speaking and the smaller group of English language citizens in the country. Jelastic Cloud is the only cloud that can scale up vertically and this feature makes it a 'TRUE CLOUD'. Due to these unique features, we are seeing a massive target clientele that would include the Govt. Sector, PSUs and the general public," said Naveen Sharma, Director, of EVERDATA.
From the beginning Jelastic has been the pioneer PaaS using containers virtualization technology for application deployment/lifecycle management/scalability and ZERO CC. In addition, Jelastic provides unique vertical scaling for all application containers with load spikes and variable loads in general. The granular vertical scaling provides the ability to scale up and down stateful apps, legacy apps and apps that were not designed for horizontal scaling, resulting in flexible pricing for end customers.
Jelastic supports popular programming languages such as Java, PHP, Ruby, Node.js, Python and .NET and provides the maximum application density, the fastest deployment model and the easiest management for private, public and hybrid clouds, all while retaining the flexibility to customize infrastructure and application configurations. A wide choice of software stacks by default, plus Docker and Cartridges templates, plugins for Eclipse, IntelliJ IDEA, NetBeans IDEs and other technologies integrated inside make Jelastic a turnkey cloud with a complex solution.
About EVERDATA
Everdata Technologies pvt. Ltd. a leading Datacenter and hosting company In India, provides a perfect blend of strategic business direction that is implemented using cutting-edge technologies. At EVERDATA we understand that our clients websites are "mission critical" and that is why we boast a state-of-the-art, fully functional IPV6 ready Data Center facilities to ensure the maximum uptime and security. Established in 2007, the company has grown exponentially and gained significant customer following by establishing a leadership position at an affordable host.
For more information visit us at http://www.everdata.com, or follow us on Twitter at http://www.twitter.com/Everdata_Tech, and Like Us on Facebook at http://www.facebook.com/everdata
About Jelastic
Jelastic, Inc. is the first company that combined unlimited PaaS ease of use (developer's productivity) and the IaaS flexibility (agility) within a single platform. Jelastic is a venture-backed enterprise software company that enables hosting service providers, systems integrators, enterprises and OEMs to unleash the full potential of the cloud to generate superior ROI and efficiencies. Investors in Jelastic are Runa Capital, Almaz Capital and Maxfield Capital.
For more information visit us at http://www.jelastic.com, or follow us on Twitter at http://www.twitter.com/Jelastic, and Like Us on Facebook at http://www.facebook.com/jelastic