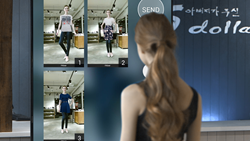 Our proprietary technology will re-invent the shopping experience for customers and retailers alike
LOS ANGELES, CA (PRWEB) February 04, 2015
FXGear, a pioneer in computer graphics software and engineering, today announced the launch of FXMirror, an augmented reality-based virtual fitting solution, allowing shoppers to try on clothes before making a selection.
Shoppers can "try on" the latest fashions, even before they hit retail stores. FXMirror uses it's unique proprietary technology to measure the body size (height, weight) and reflect a customer's face and features to show the 3D garment fitting simulation in real-time.
"Our proprietary technology will re-invent the shopping experience for customers and retailers alike," said Chang-Hwan Lee, CEO of FXGear. "After interviewing many apparel companies and major fashion brands to understand their needs, we decided to focus on developing an easy to use data-base production and management software, which can create a photo realistic look and feel 3D data from just the front and back photos of actual clothes within 5 to 10 minutes."
With FXMirror, customers can access a convenient way to try on new clothes without the hassle of waiting for a physical fitting room. Additionally, FXMirror can be connected with FXAvatar, a personalized 3D avatar and virtual fitting solution for mobile devices, which enhances the customer experience and engagement by providing personalized and convenient fitting service. Retailers can gather crucial data about their customers' preferences and shopping behavior, while lowering market research costs and increase direct sales by easily integrating their Omni shopping channel.
FXGear is well known for it's advanced physics simulation technology, which has been used by major Hollywood movie and gaming studios for over 10 years. FXGear's proven high-end technology enables the system to track the user's every motion, including the movements of fingers and turning from side to side. The shopper can see each piece of clothing realistically draped over them, moving freely as the shopper moves.
Additional features of the FX Mirror include:

Easily change in and out of clothes – with automatic measurements done within two seconds, users can switch from one piece of clothing to another, trying on as many styles as they like in a short time.
Detailed information of selected items – from price to measurements to color choices, FX Mirror offers essential information in one easy-to-access central location.
Capture & share over social media – capture and share the latest fashion finds or fitting comparison results to ask for thoughts from friends via social media, including Facebook, Twitter, Instagram or Email.
Advertising features – use the mirror to display a digital look book or cross promote sale items in inactive mode.
Secure payment solution - mobile payment app and software can be offered with FXMirror for more secure checkout.
For more information or to request the FXMirror e-brochure, email fxmirror(at)fxgear(dot)net
About FXGear
Founded in 2004, FXGear continues to develop various cutting-edge computer graphics technologies. Originally established as a computer graphics software developer, it has expanded into developing virtual human technologies, mobile graphics engines, virtual reality technologies, including VR conversion and rendering plug-in for 3D animation software and more. The company is at the core of the computer graphics field and has acquired more than 27 patents in Korea, USA, Taiwan and Japan. FXGear technology has been used in major motion pictures and university courses, as well as for personal and business settings. For more information, visit http://www.FXGear.net.