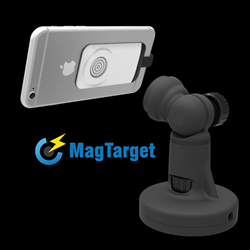 Say goodbye to charging with a wire. Charge & mount any iPhone, iPad or Android with a simple touch!
Sunnyvale, California (PRWEB) February 03, 2015
The way mobile phones and tablets are charged is about to change, thanks to MagTarget. The long awaited magnetic charging technology is about to hit the market, launching through an Indiegogo campaign designed by Digital Funding Agency. The days of cords and plugs is about to be a thing of the past with the revolutionary new magnetic charging docks that MagTarget has developed.
With the new magnetic charging dock, simply hold the device close to the dock and the magnet does the rest. A ring that is placed on the back of the device is guided into place by the magnet and the conduction charging process begins, it's that simple. Initial testing reveals that consumers are thrilled to have such a sleek and convenient alternative to the messy cords and difficult to use plugs.
MagTarget is offering a complete range of charging docks through their site, including a rotating dock for wall mounting, a dock with an arm, perfect for nightstands, desks and dashboards, as well as a clamp dock for use on bikes, behind headrests in the car or anywhere on the go.
Consumers are able to purchase the magnetic charging docks now at http://igg.me/at/magtarget or for a limited time, they are invited to have friends participate in the campaign by sharing on social media in exchange for a free charging dock. Retailers are currently offered a promotional 53% discount during the initial product launch. Details on both promotions available at: http://igg.me/at/magtarget.