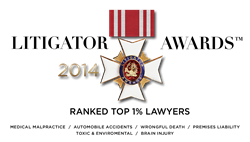 Gersowitz Libo & Korek, P.C. wins the prestigious 2014 Litigator Award
New York, NY (PRWEB) February 03, 2015
Gersowitz Libo & Korek, P.C., a leading national personal injury law firm, is proud to announce its selection as a 2014 Litigator Award recipient by the Trial Lawyers Board of Regents for extraordinary achievement within fields of Medical Malpractice, Automobile Accident, Wrongful Death, Premises Liability, Toxic & Environment and Brain Injury Litigation.
"We are very proud to receive the nation's most coveted symbol of litigation achievement," said Jeff S. Korek, senior partner at Gersowitz Libo & Korek, P.C. "This award validates our commitment to excellence in litigation and obtaining exceptional verdicts for our clients."
The Litigator Awards honors the top 1% of trial lawyers in 72 legal practice areas. Award recipients of this unrivaled annual honor are recognized for having attained extraordinary achievement based strictly on "Verdict and/or Settlement" dollar, instead of peer popularity. The Litigator Awards are amongst the most rigorous and openly judged trial law rating. Award winners are carefully chosen by a nomination committee through the use of an unbiased and reliable rating system that includes proven litigation achievement within the last 20 years prior to the attorney's nomination.
"All of the long hours and hard work of a trial lawyer are definitely worth it, knowing that you've been able to help people who have been injured obtain the compensation that they deserve," said Mr. Korek. "We are honored to be the recipient of a 2014 Litigator Award winner."
About Gersowitz Libo & Korek, P.C.
The New York City accident lawyers at Gersowitz Libo & Korek P.C. have devoted the past 25 years to helping injured victims get the maximum compensation they deserve for the injuries they have suffered. These lawyers have the knowledge, experience and resources to successfully pursue all types of personal injury, construction, and medical negligence cases.
Serving the residents of New York and New Jersey, the accident lawyers at Gersowitz Libo & Korek, P.C. are committed to the relentless pursuit of victims and their loved ones' rights. They urge anyone in need of assistance who has suffered a serious injury to immediately contact them.
Contact:
Jeff S. Korek
Gersowitz Libo & Korek, P.C.
jkorek(at)lawyertime(dot)com
(212) 385-4410