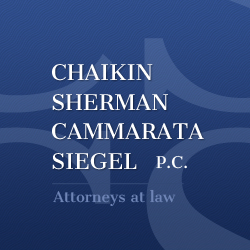 Washington, DC (PRWEB) February 02, 2015
The National Board of Trial Advocacy (NBTA) is pleased to announce that Attorney Allan M. Siegel - Partner at the Washington, DC law firm of Chaikin, Sherman, Cammarata & Siegel, P.C. - has successfully achieved Board Certification as a civil trial advocate. The NBTA awards this recognition to lawyers who demonstrate the highest standards of experience and expertise in the practice of trial law.
By becoming board certified, Attorney Siegel joins a select group of trial attorneys who have illustrated a commitment to civil trial advocacy by completing a rigorous application process. The comprehensive certification process involves a demonstration of substantial trial experience, submission of judicial and peer references, attendance of continuing legal education courses, submission of legal writing documents, proof of good standing, and passing of an examination.
Board Certification is a prestigious accomplishment and is considered the highest, most stringent, and most reliable honor a lawyer can achieve. Board certifications are unique in that they are the only distinctions awarded by non-profit organizations. Currently, less than 4% of all practicing attorneys are Board Certified by an ABA accredited or state sponsored certification board.
Attorney Siegel's Board Certification speaks volumes about his continued commitment to trial advocacy and to the many injured victims and families he has represented throughout his more than 20 years in practice. It is also intended to serve as an objective measurement consumers can use during their search for respected, qualified, and proven lawyers.
Attorney Allan M. Siegel is a Partner at Chaikin, Sherman, Cammarata & Siegel, P.C., a personal injury and plaintiff's law firm that represents wronged and injured victims throughout the DC metro area. Attorney Siegel has tried and settled hundreds of cases in Maryland, Virginia, and the District of Columbia, and has earned a number of legal awards and honors, including his continued selection to the Washington, DC list of Super Lawyers®, an achievement held by only 5% of lawyers in the region.
For more information about Attorney Allan M. Siegel or NBTA visit: http://www.chaikinandsherman.com or http://www.nblsc.us.