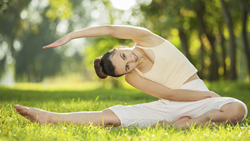 (PRWEB) February 03, 2015
A Premium membership to online health and wellness education website ChangeYourEnergy.com just got more rewarding. This year premium members will enjoy deeper discounts on courses and have access to monthly special live classes. Now, anyone who signs up for a Premium Member account will receive 20% off all CYE online courses—a two-fold increase from the previous 10% discount.
CYE.com offers live and downloadable courses taught by experts in yoga, meditation, brain education, Tai-Chi, Qigong and many more classes based on the energy principle teachings of CYE founder and meditation expert Ilchi Lee.
The Premium Membership also includes two complimentary online courses, the Aquamarine Crystal Meditation and DahnMuDo Beginner's Program—a $56 value!
In addition to Online Course and Live Class benefits, Premium Membership also gives members access to hundreds of free videos on wellness tips, guided meditations, full-length yoga classes, sound healing and more.
ChangeYourEnergy.com offers over 30 years worth of experience and knowledge of energy principles based on Eastern philosophy and practices. Join and enjoy the best wellness content on the web!