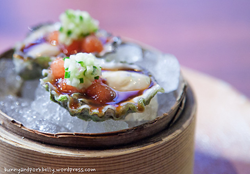 "There are no words to describe the experience I had at O Ya a few months back. I won't even pretend like there are. My mind was blown with every bite-sized offering of deliciousness..." – Just Add Cheese via Urbanspoon
Seattle, WA (PRWEB) February 03, 2015
February 2, 2015 – Restaurant discovery app Urbanspoon released its list of unique dining adventures for Valentine's Day across the country. Being romantic doesn't always mean a tasting menu (but that never hurts), but Urbanspoon suggests omakase menus, cool bars, and even a few places would be a cool place to clink glasses, slurp oysters (if you're into that), and get cozy. These lists are data culled from Urbanspoon's Popular Dish feature, user data, reviews, and expert commentary.
Dinner and a Show: The Sushi Counter
Arami (Chicago, IL)
What to eat: Toro Tartare Bite, Maguro Kani, and Secret Hamachi
Why Urbanspoon loves it: "Everything at Arami is great. Not only is their seafood some of the freshest I've had in the city, the presentation is equally as stunning as the quality of their food." - Chef Danny Grant
O Ya (Boston, MA)
What to eat: Omakase chefs menu
Why Urbanspoon loves it: "There are no words to describe the experience I had at O Ya a few months back. I won't even pretend like there are. My mind was blown with every bite-sized offering of deliciousness, but undoubtedly, this is what many will say who have dined here." - Just Add Cheese
Miyake (Portland, ME)
Ichimura at Brushstroke (New York, NY)
Ridiculously Stunning Restaurants
Alize, Palms Casino Resort (Las Vegas, NV)
What to eat: Carpaccio
Why Urbanspoon loves it: panoramic view of The Strip.
The Penthouse Restaurant (Santa Monica, CA)
Canlis (Seattle, WA)
Places to Pop the Question
Eleven Madison Park (New York, NY)
What to eat: duck for two
Why Urbanspoon loves it: "We went for a romantic and memorable dinner at 11 Madison...We had the tasting menu with the wine pairings. The sommelier came by to ask us what wines we enjoyed drinking so they could ensure they were included and that rarely happens in our experience." - Eleanor's Culinary Adventures
Harvest (McKinney, TX)
What to eat: crispy ribs
Why Urbanspoon loves it: "The dining experience we had at Harvest was one of the best overall dining experiences I have had in the DFW area in the past five years." - Livin The Good Life
Minibar by Jose Andres (Washington DC)
Le Cep Restaurant (Fort Worth, TX)
Boat Street Cafe (Seattle, WA)
Cocktail Bars
Bourbon and Branch (San Francisco, CA)
What to drink: Cucumber Gimlet, Bartender's Choice
Why Urbanspoon loves it: Once you've figured out how to get into this bar, you won't be disappointed. I loved the bar seating, where you'll get to watch 7+ ingredient cocktails being made especially for you. If you want more privacy, head back to one of the booths in the back. Go early if you don't have a reservation and want to avoid the rush.
SoBou (New Orleans, LA)
What to order: cherries jubilee and white chocolate bread pudding
Why Urbanspoon loves it:"Modern and chic, this eatery will take you away from the norm of the day-to-day and whisk you into a hip and uniquely-designed space for all things enjoyable. The spacious bar area, lounge setting, and expansive main dining room allows for great times and memorable meals not to be forgotten." - Savor Hour
Anvil (Houston, TX)
Raven & Rose (Portland, OR)
Click here for additional dish details and photos.
About Urbanspoon
Urbanspoon is an online restaurant search and discovery service providing information on home delivery, dining-out, cafés and nightlife in cities of India and 21 other countries.
Media Contact:
Mindy Shaw, PR Urbanspoon/Zomato
mindy(at)urbanspoon(dot)com