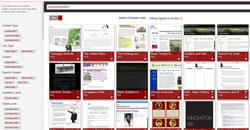 Fulcrum is the largest resource for Black History Month content, and it's all free for teachers.
Westport, CT (PRWEB) February 03, 2015
Andover Education launched Fulcrum a few months ago, and it's already been widely adopted as a one-stop-shop for teaching resources. And now Fulcrum is the largest resource for Black History Month classroom content, ranging from projects and quizzes to links and videos, all tagged so it's easy to find.
Teachers can quickly find the content they need by searching "Black History Month" and any other descriptors, including grade and content type (such as printables, videos, quizzes). Then teachers can save and share their content. Teachers can even upload their own content to create lesson plans and share with others. On Fulcrum, all content is free for teachers.
Fulcrum was created based on discussions with superintendents and teachers of some of the largest school districts in the country and was designed to be not only a content sharing platform between schools within a district, but also to be a collaborative platform for teachers across the country to share content and improve classroom teaching and learning. From questions, quizzes, and exams to images, graphs and charts, teachers can find and use the best education content.
According to Andover's CEO, Nathan Allen, Fulcrum "allows teachers and districts to develop and share great content, provide teachers with the content they need to achieve goals, and promote best practices in the classrooms. It also allows schools and districts to find and promote their instructional leaders, thus leveraging the talents of great teachers."
Fulcrum is free for teachers and teachers can use it independently or as part of a district program by searching and sharing content through easy search functions and effective tagging systems. Fulcrum allows teachers to follow thought leaders in their fields to receive instant updates and the most used and effective content is listed first and instantly available. Teachers are able to quickly switch between district's private database and Fulcrum 's national and international content databases. The most used or highest rated collections will rise to the top and get people connected with great lists of the best stuff for any given topic, subject area, content type, or standard area.
Districts can see what's being used and what works and then drive that content into the classroom. With Fulcrum, districts can easily identify and disseminate best practices and district level personnel get an inside look into what is and isn't working. District owned and licensed content can be excluded from content searches outside of the district, at the district's discretion. There is no need for a school to host Fulcrum as everything is cloud based and always accessible.
To use Fulcrum, visit http://www.FULCRUM.AndoverEd.com.
About Andover Education
Andover was launched in Westport, CT in 2003 to develop educational content and quickly became known for its metric-based solutions for districts. Andover developed its own technology once it became apparent that the technology to deliver solutions was limited and out-dated. While a technology company, Andover's foundation is in teaching and learning. Andover operates an accredited school (grades 6-12) and employs a full complement of teaching staff. As a technology company, this enables Andover to develop ed-tech solutions that best address education challenges.