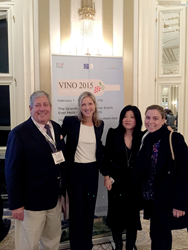 We applaud any effort to aggregate producers - this kind of collaboration allows for a unique, bigger showcase which provides the critical mass that can attract trade and press and benefit producers
(PRWEB) February 03, 2015
New York - Vinitaly International joined wine trade and press professionals this week in New York for the Italian Trade Commission's VINO 2015 Italian Wine Week & Convention, a series of seminars and tastings celebrating the wines of southern Italy.
"Vino is back!" announced ITC's Trade Commissioner Pier Paolo Celeste, referring to both the growing popularity of Italian wine in the US as well as the name of the ITC's Italian Wine Week in New York, as he kicked off Monday morning's breakfast discussion on trends in the world's largest wine market: the US. Despite yet another day of inclement weather in New York, trade and press packed the Vanderbilt ballroom at NYC's Waldorf-Astoria Hotel to discuss the successes and challenges of Italian wine in the US market, where one out of every three imported bottles is Italian, and sales of Italian wines constitute a 1.8 billion dollar industry.
Explaining this success, wine writer and panel presenter Mike Veseth says that Americans have fallen in love with "brand Italy." "Americans have an idealized notion of Italy," he explains. "Italy evokes emotions, senses, romantic notions of style and food." And while consumption in the US and Canada has grown – even while wine consumption in Europe has fallen – Italian wine must stay current to be competitive, as consumers' expectations rise and wine faces increasing challenges from craft beer and cocktails. "VINO 2015 is partly about refreshing 'brand Italy'," Veseth explains.
Managing Director of Vinitaly International Stevie Kim elaborated on this idea of branding, treating the audience to a brief teaser video about Vinitaly and the upcoming Expo 2015, where Vinitaly will host the first-ever Italian wine pavilion. "We must leverage this worldwide love of Italy to brand Italian wine," she explains. "Italians are very creative – they excel in cuisine, fashion, art – but also very individualistic. And when it comes to wine, it can be difficult to get them to work together. That's why Vinitaly International works to aggregate them as a group under one umbrella, so that we can present, explain, and diffuse Italian wine around the world. VINO 2015 is just such an effort, bringing together many producers - particularly from the un-sung southern regions – in one place."
Slow Wine was also on hand for the event along with many of their producers, to present their 2015 Slow Wine Guide – a move that Kim sees as positive for the Italian wine brand. "Working together is key, and we fully support Slow Wine coming to do their grand tasting together with VINO 2015 this year," says Stevie Kim. "We applaud any effort to aggregate producers - this kind of collaboration allows for a unique, bigger showcase which provides the critical mass that can attract trade and press and benefit producers." Vinitaly International, which has partnered with Slow Wine for past New York events, this year planned a small focused tasting of Sangiovese as part of the Vinitaly International Academy; that event was cancelled because of weather conditions, and has been rescheduled for June 1st.
As the ambassador of Italian wine around the world, Kim also encouraged those wine experts or experts-to-be in attendance to become ambassadors themselves; now in its second academic year, the Vinitaly International Academy will hold its first certification course for Italian Wine Ambassadors this spring in Verona. The program, launched by Stevie Kim and internationally acclaimed wine journalist Ian D'Agata, guides participants through a series of seminars focused on particular Italian grape varietals. "A mature market like the US and New York has a very high level of enthusiasm for and knowledge of Italian wine," Kim explains. "Our job is to grow that knowledge in less-developed markets throughout the US and around the world, and allow our producers to be represented in markets, platforms and media channels that they wouldn't have the capacity to reach on their own. This year we're looking forward not only to bringing producers together for the world's largest annual wine event at Vinitaly in Verona, but also for the first Expo pavilion dedicated to wine." Like this week's ITC convention, that pavilion will be called VINO: A Taste of Italy, and is envisioned as a multi-sensorial wine experience, incorporating education, technology, and tasting as never before seen on the world stage.
About:
Veronafiere is the leading organizer of trade shows in Italy including Vinitaly (http://www.vinitaly.com), the largest wine and spirits fair in the world. During its 48th edition Vinitaly counted some 155.000 visitors and 4.000 exhibitors on a 100.000 square meter area. The next edition of the fair will take place on 22 – 25 March 2015. The premier event to Vinitaly, OperaWine (http://www.vinitalyinternational.com) "Finest Italian Wines: 100 Great Producers," will unite international wine professionals on March 21st 2015 in the heart of Verona, offering them the unique opportunity to discover and taste the 100 best Italian wines, as selected by Wine Spectator. Since 1998 Vinitaly International travels to several countries such as Russia, China, USA and Hong Kong. In February 2014 Vinitaly International launched an educational project, the Vinitaly International Academy (VIA) with the aim of divulging and broadcasting the excellence and diversity of Italian wine around the globe. VIA is now ready to present the first edition of its VIA Certification Course to be held in Verona from the 16th to the 20th of March 2015 with the aim of creating new Ambassadors of Italian Wine in the World.
# # #