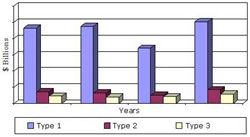 Global Market for Precious Metals is expected to reach $323.2 Billion in 2019
Wellesley, Mass. (PRWEB) February 04, 2015
BCC Research (http://www.bccresearch.com) reveals in its new report, Precious Metals: Global Markets that the global precious metals market is projected to reach $323.2 billion in 2019, reaching a market share of 6.9% from 2013 to 2019. With a wide range of applications ranging from autocatalysts to photography, precious metals are increasingly making a mark in varied sectors.
Although several applications for gold, silver, platinum and palladium are propelling markets such as automotive, industrial and other niche areas, where the metal actually performs chemical and metallurgical functions other than aesthetics, jewelry is the most established and dominant segment for this industry.
Gold and silver were heavily hit with the former declining from $236.9 billion in 2012 to $170.4 billion market 2013, for a drop of 28%, while the latter dropped 21.7%; a market size of $32.7 billion in 2012 to $25.6 billion in 2013. Platinum group metals (PGM) was the only segment of the market that retained its market size with the value increasing slightly from $20.4 billion in 2012 to $21.1 billion in 2013, for a growth of 3.5%.
BCC Research estimates that the gold market will spring up to $252 billion for a CAGR of 6.7% through 2019. The silver market will grow a bit faster, at a projected CAGR of 8.8% to reach $42.5 billion from the current $25.6 billion.
"Over the past decade, gold prices rose, until 2012. Prices declined dramatically in 2013 but in 2014 are stabilizing," says BCC Research analyst Vijay Subramanian. "The recent turmoil in prices has been harsh on the industry, with several miners and processors feeling the financial pressures in the last two years."
Precious Metals: Global Markets analyzes the current market scenario, the growth in the past few years, potential future gain and the changes taking place in the precious metals marketplace through 2019.
Editors and reporters who wish to speak with the analyst should contact Steven Cumming at steven(dot)cumming(at)bccresearch(dot)com.
About BCC Research
BCC Research publishes market research reports that make organizations worldwide more profitable with intelligence that drives smart business decisions. These reports cover today's major industrial and technology sectors, including emerging markets. For more than 40 years we've helped customers identify new market opportunities with accurate and reliable data and insight, including market sizing, forecasting, industry overviews, and identification of significant trends and key market participants. We partner with analysts who are experts in specific areas of industry and technology, providing unbiased measurements and assessments of global markets. Recently selected as the world's greatest market research company, BCC Research is a unit of Eli Global, LLC. Visit our website at http://www.bccresearch.com. Contact us: (+1) 781-489-7301 (U.S. Eastern Time), or email information(at)bccresearch(dot)com.