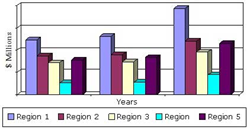 The in vitro diagnostic of the renal biomarker market is predicted to reach over $1.1 billion globally by 2019.
Wellesley, Mass. (PRWEB) February 03, 2015
BCC Research (http://www.bccresearch.com) investigates in its new report on in vitro diagnostic renal biomarker the introduction of novel biomarkers for acute kidney injury, including liver-type fatty acid binding protein (L-FABP), tissue inhibitor of metalloproteinases-2 (TIMP-2), interleukin-18 (IL-18) and others, as well as the emerging biomarkers for chronic kidney injuries, such as klotho. Together, these biomarkers are expected to contribute to substantial market growth through 2019.
Kidneys have numerous life-sustaining functions, such as cleansing blood by filtering waste and excess fluid, maintaining the balance of salt and other minerals, and regulating blood pressure. In the event of damaged kidneys, waste products and fluid can build up in the body, causing swelling, vomiting, weakness, low quality of sleep and shortness of breath. If they remain untreated, damaged kidneys eventually lose their vital function completely, which can be fatal. Kidney failure can be developed acutely (acute kidney injury or AKI) or over time (chronic kidney disease or CKD).
The in vitro diagnostic of the renal biomarker market was $771 million in 2013 and is predicted to reach over $1.1 billion globally by 2019, with a compound annual growth rate (CAGR) of 7% from 2014 through 2019. The predominate growth drivers are the emerging biomarkers of acute kidney injury, the approval of acute kidney injury biomarkers, and the rising awareness of medical care in China, Central and South America, and other developing regions.
"The market leader in 2013 was Europe, followed by the U.S. and China. Central and South America has the highest CAGR of 9.9%, but even the U.S. is expected to have a modest CAGR of 6.1% which shows the market landscape is not expected to change by 2019," says BCC Research analyst Cheng-Yuk Lee. "Continued growth is anticipated in emerging regions, driven by the growing preventive medicine industry in countries such as China and regions like Central and South America and the rest of the world."
Renal Biomarkers: Technologies and Global Markets provides a comprehensive analysis of the renal biomarkers market and its trends from 2013 through 2019. It details the history and current state of renal disease, background on cardiac biomarkers and current industrial technologies for diagnosis.
Editors and reporters who wish to speak with the analyst should contact Steven Cumming at steven(dot)cumming(at)bccresearch(dot)com.
About BCC Research
BCC Research publishes market research reports that make organizations worldwide more profitable with intelligence that drives smart business decisions. These reports cover today's major industrial and technology sectors, including emerging markets. For more than 40 years we've helped customers identify new market opportunities with accurate and reliable data and insight, including market sizing, forecasting, industry overviews, and identification of significant trends and key market participants. We partner with analysts who are experts in specific areas of industry and technology, providing unbiased measurements and assessments of global markets. Recently selected as the world's greatest market research company, BCC Research is a unit of Eli Global, LLC. Visit our website at http://www.bccresearch.com. Contact us: (+1) 781-489-7301 (U.S. Eastern Time), or email information(at)bccresearch(dot)com.