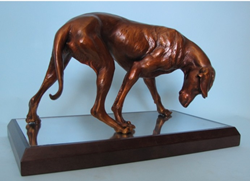 I believe that great design is timeless.
Durango, CO (PRWEB) February 03, 2015
Sorrel Sky Gallery is hosting a workshop with artist, Patsy Davis offering students an invaluable opportunity to learn the process of Sculpture for Bronze in Durango, Colorado on Saturday and Sunday, February 21 & 22.
Davis grew up in Wisconsin and Iowa before attending Rhode Island School of Design. She worked as an industrial designer, creating models for giftware and toy companies including Hasbro, Warner Brothers and Disney for over 25 years. In 1996 she moved to Southwest Colorado and in 2002 began working in bronze. Her stories told through her work reflect the sense of movement, and most of all a glimpse into the hearts and minds of the animals she portrays.
Davis states, "I believe that great design is timeless. It is certainly influenced and often inspired by the time in which it is created, but the trends do not define what is or is not good art. I am very sensitive to the difference between making art for the marketplace and simply making art."
Sorrel Sky Gallery's 3rd Annual Artists Workshop Series is scheduled over weekends to encourage artists to come and stay to the location and enjoy the experience of learning with a master and getting to know the arts community in both Durango and Santa Fe. For more information and to register for a workshop call (970) 247-3555. A complete listing of workshops is available at http://www.sorrelsky.com. Hotel accommodation packages are also available to those traveling.
Sorrel Sky Gallery's fresh approach to Western art presents a select collection of contemporary and traditional fine art and jewelry for the discerning collector. Sorrel Sky Gallery was founded in Durango, CO in 2002 and opened its Santa Fe, NM location in 2014. It represents over 60 painters, sculptors and jewelers including bronze artist Star Liana York, painter Billy Schenck, and former U.S. Senator Ben Nighthorse, among others.