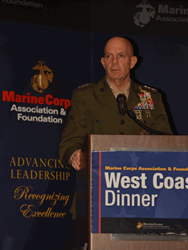 "[MCA&F] recognize us, they archive our history," Berger said. "…They turn around every dollar back in the Marine Corps. It's irreplaceable. I don't think a lot of Marines know that."
(PRWEB) February 04, 2015
More than 400 guests attended the Marine Corps Association & Foundation's West Coast Dinner at the Carlsbad Sheraton, Calif. on Jan. 28, 2015.
The annual dinner is in its fifth year and emphasizes education, networking, and most importantly, camaraderie. Guests enjoyed musical favorites performed by the 1st Marine Division Band, as well as the National Anthem, Marine Corps Hymn and the posting and retiring of colors.
Following dinner, keynote speaker LtGen General David Berger, Commanding General, I MEF thanked everyone for attending the MCA&F dinner as a show of support for the Marine Corps at large.
"They recognize us, they archive our history," Berger said. "…They turn around every dollar back in the Marine Corps. It's irreplaceable. I don't think a lot of Marines know that."
Berger presented a full update on the Marine Corps' West Coast operations during his keynote speech, including units deployed to the Middle East and the Pacific.
Berger also addressed the unique opportunity the MCA&F dinner provided by bringing together Marines and professionals in the private technology sector. The military and civilian communities need to work together to create "equipment that's expeditionary, energy efficient, reprogrammable and light," he said.
Those ideas should start with "bottom up innovation" that addresses the needs of junior leadership.
"We'll miss ideas if we all think the same," Berger said. "This is the whole team pulling the same direction."
The Marine Corps Association & Foundation hosts more than a dozen professional events each year to foster professional development and encourage camaraderie in keeping with our tradition of "Advancing Leadership and Recognizing Excellence Since 1913."
See photos and video from the dinner: http://bit.ly/mcawestcoast
For upcoming events, visit: http://www.mca-marines.org/events.
Learn more about our Foundation's programs and support our Marines with a tax-deductible donation: http://www.mcafdn.org.