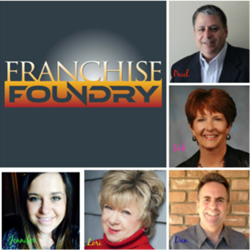 At Franchise Foundry, we have developed strategies that help franchise brands foster relationships through extensive online community building. - Paul Segreto
Houston, TX (PRWEB) February 04, 2015
Franchise Foundry, the franchise development agency for various emerging brands across several industries, will showcase seven of the twelve brands the company represents during the 2015 Franchise Expo South at the NRG Center in Houston, TX.
The Franchise Expo South, one of three annual franchise trade shows hosted by MFV Expositions, is returning to Houston for the second time on Thursday, February 5, 2015. After countless years hosting the show in Miami, MFV Expositions brought the Franchise Expo South to Houston for the first time in 2014 and saw significant increases in attendees and exhibitors. Moreover, development agencies, like Franchise Foundry, and franchise brands met with thousands of qualified American investors looking to dive into new opportunities. Consider the following from MFV:
2014 Franchise Expo South, by the numbers:

Increased show attendance by more than 1,500 (11,756 compared to 10,096)
Increased number of exhibitors by more than 40 (211 compared to 170)
Attracted attendees with capital to invest. Nearly 2 in 3 (65%) attendees had $50k or more to invest and more than 2 in 5 (45%) had $100k or more to invest.
Attracted attendees with business ownership experience. Nearly 2 in 3 (64%) had previously owned a business.
According to Paul Segreto, Franchise Foundry's CEO, statistics like these make the Franchise Expo South the ideal trade show at which to promote a Houston-based company like Franchise Foundry and the roster of rising star franchise brands the Foundry team represents.
"Few people realize just how important the city of Houston and the state of Texas are to entrepreneurship and franchising," says Segreto. "With low real estate costs, low business taxes and high purchasing power, Houston is the most affordable city in which to do business. Further, Texas has seen the largest net increase in employment of any state since 2007 as many brands have rapidly expanded within our state, hiring hundreds of workers. Texas is a hotbed of growth for business owners and we're thrilled to be headed to the Franchise Expo South to help the brands we represent contribute to that growth."
Segreto and the Franchise Foundry team will be featuring many unique and emerging clients at the Franchise Expo South. The diverse group will include Waxy O'Connor's, Power Pizzeria, Smart Drinks and Nutrition, MaxOut Strength Studio, Hassle Free Home, Scooter's Jungle, and The Director's Cut.
In addition to promoting the brands their company represents, Segreto and the Franchise Foundry team will share how their Houston-based company works with franchisors and franchise candidates alike, utilizing social media and other digital technology to help franchise brands spark profitable and sustainable relationships with today's sophisticated and tech-savvy franchise candidates.
"Today's candidate (and consumer) is more educated, sophisticated and technologically advanced than franchising has ever seen before," says Segreto. "They're also more diligent, cautious and anxious than ever before. As a result, we strongly believe that relationship building with candidates must start much earlier than in years past."
"At Franchise Foundry, we have developed strategies that help franchise brands foster relationships through extensive online community building. This allows our clients to open the door to candidates seeking to form relationships via online exploration. This caters to the needs of modern day franchise prospects by giving them the opportunity to dive deep into an organization's culture and identity before picking up the phone - a key element of successful franchise development in today's world."
To learn more about Franchise Foundry and their unique digital approach to franchise development at the Franchise Expo South, please visit Franchise Foundry at booth 503 and attend Paul Segreto's session entitled "Effectively Using Social Media within a Franchise System" at 9:00 AM on February 6th, 2015.
To learn more about Franchise Foundry and its services, please visit franchisefoundry.com.
To learn more about the Franchise Expo South, please visit franchisexposouth.com.
###
ABOUT FRANCHISE FOUNDRY
Franchise Foundry is a business accelerator focused on emerging franchise brands. Boasting more than 30 years of experience building businesses, Franchise Foundry leadership fully understands the unique challenges that emerging franchisors face in starting, growing or turning around their brands. Utilizing a hybrid coaching/consulting approach, the Foundry team develops and deploys effective short and long-term solutions in franchise management & operations, change management, traditional & digital marketing, relationship & business management technology and domestic & international franchise development.
Franchise Foundry also assists franchise brands in raising capital and exploring merger & acquisition opportunities. The company has an expanding list of client brands across various industry segments, with its primary goal of positioning clients with unique, differentiating propositions to stand out in today's highly competitive business environment.
Franchise Foundry is a true full-service franchise development company. The Franchise Foundry team provides franchise consulting, franchise marketing, franchise technology and other franchise development services to emerging franchisors.
For more information about Franchise Foundry and its company, visit franchisefoundry.com. Keep up with Foundry news by following Foundry on Facebook and Twitter.