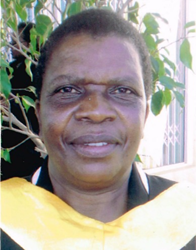 Greensboro, NC (PRWEB) February 10, 2015
The NBCC Foundation, an affiliate of the National Board for Certified Counselors, Inc. (NBCC), recently awarded a $2,000 scholarship funded through the Ulla Kalha Memorial Fund to Esnat Kennedy Mafuleka, of Karonga, Malawi. Ms. Mafuleka is a student in the Guidance and Counselling Programme at the Africa University of Guidance, Counselling and Youth Development (AUGCYD) in Malawi.
The AUGCYD is a globally renowned university accredited by Malawi's National Council for Higher Education. The university prides itself on its quality courses, qualified lecturers and modern teaching and learning technology. The AUGCYD is part of the Guidance, Counselling and Youth Development Centre for Africa (GCYDCA), an intergovernmental nonprofit organization that seeks to develop and institutionalize guidance, counseling and youth development services as support to give youth in Africa the knowledge and skills necessary to handle complex social issues that are part of their daily life.
In her application, Ms. Mafuleka conveyed to the Foundation how few counselors are available in Malawi compared to the number of individuals needing assistance. The GCYDCA highly recommended Ms. Mafuleka for the scholarship, as a hardworking student who was top of her class in the two-year degree program she recently completed through the AUGCYD. With the scholarship funds, Ms. Mafuleka will begin the four-year bachelor's degree program in guidance and counseling. Upon graduation from the program, she plans to intern with the GCYDCA.
Ulla Kalha was a woman of courage with a warm and generous spirit. Originally from Finland, Ulla moved away from her home country early in her career. Her work led her to move to Africa to assist in UNESCO efforts. Much of her work in Africa was centered on programs for people living with HIV/AIDS. Ulla was proud of her work in helping to create the GCYDCA. She encouraged NBCC to promote the importance of the GCYDCA and be part of developing programs to assist its work. To honor Ulla's love for the work of the GCYDCA, the NBCC Foundation will award a scholarship annually to enable a student to complete the counseling degree program at AUGCYD.
The Foundation is pleased to continue bridging the gap in access to quality mental health services for people across the street and around the globe. For more information about the Foundation's other efforts, please visit http://www.nbccf.org/Programs
About the NBCC Foundation
The NBCC Foundation is an affiliate of the National Board for Certified Counselors (NBCC), based in Greensboro, North Carolina. NBCC is the nation's premier professional certification board devoted to credentialing counselors who meet standards for the general and specialty practices of professional counseling. Currently, there are more than 55,000 National Certified Counselors (NCCs) in the United States and more than 50 countries. The Foundation's mission is to leverage the power of counseling by strategically focusing resources for positive change.
###