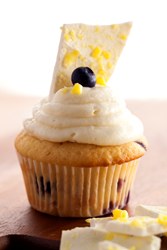 [M.I.O.] has created three decadently easy desserts to help impress your Valentine
Oklahoma City, OK (PRWEB) February 03, 2015
Valentine's Day is around the corner and Oklahomans may be searching for that perfect delectable treat to make for a special someone. Luckily, The Made In Oklahoma Coalition has created three decadently easy desserts to help impress. For a refreshing and light dessert, look no further than the Lemon Berry Cupcake with White Chocolate Icing. For the Chocolate lovers, MIO has created a Molten Chocolate Peanut Butter Pudding Cake and a Rich Coffee Chocolate Torte that will melt in your mouth.
If time in the kitchen is not in the plans for Valentine's Day, The Woody Candy Company in Oklahoma City offers a wide variety of gourmet candy and chocolates sure to make mouth's water. Purchases can be made online at woodycandy.com
The Made in Oklahoma Coalition offers a wide variety of recipes to consumers while promoting food products manufactured in the state. For these unique recipes, M.I.O. has partnered with seven Oklahoma based member companies to help prepare these recipes: Hiland Dairy, Andrew's Honey Bees, Griffin Foods, Prairie Wolf Spirits, Shawnee Milling Company, Woody Candy Company, and Clements Foods.
Lemon Berry Cupcakes with White Chocolate Icing
Cupcakes:
3 ⅓ cups Shawnee Mills all purpose flour
½ teaspoon salt
½ teaspoon baking powder
½ teaspoon baking soda
3/4 cup (1 ½ sticks) Hiland unsalted butter, room temperature
1 ¾ cups sugar
¼ cup Andrews Honey Bees
⅓cup fresh lemon juice
1 teaspoon lemon zest, packed
4 large eggs
1 cup plus 4 tablespoons Hiland buttermilk
2 ½ cups fresh blueberries (reserve 24 for garnish)
Frosting:
11 ounces high quality white chocolate, finely chopped
12 ounces cream cheese, room temperature
3/4 cup (1 ½ sticks) Hiland unsalted butter, room temperature
2 tablespoons fresh lemon juice
Lemon Ice Candy from The Woody Candy Company
Instructions:
Cupcakes
Combine the honey and lemon juice mixing well, reserve. Preheat oven to 350°F. Place 24 cupcake papers in two muffin tins. Sift flour, salt, baking powder, and baking soda into a medium bowl. Using electric mixer, beat butter in large bowl until fluffy. Gradually add sugar, beating until blended, scraping down sides of bowl occasionally. Beat in lemon juice and honey, add zest, then eggs 1 at a time. Continue to beat until well blended. Beat in dry ingredients in batches alternating with buttermilk. Fold in berries.
Fill each cupcake paper with 1/3 cup of batter. An ice cream scoop works well for this part of the process. Bake cupcakes for 20-25 minutes or until inserted toothpick comes out clean. Carefully monitor after 20 minutes. Cool cupcakes in muffin tins for 5 minutes. Remove muffins from tins and cool completely on cooling rack.
Frosting
Melt white chocolate in double boiler over simmering water. Remove boiler top from water, stir until smooth, and cool until lukewarm. Using electric mixer, beat cream cheese and butter in large bowl until blended. Add lemon juice and cooled white chocolate and beat until well blended.
When completely cooled, ice the cupcakes with a small cake spatula or piping bag. If you use a piping bag you will be applying more icing to each cupcake and you should probably consider doubling the recipe. Garnish with Lemon Ice Candy from The Woody Candy Company and reserved blue berries.
Molten Chocolate Peanut Butter Pudding Cake
2 packages Shawnee Mills brownie mix
¼ cup water
½ cup Garden Club creamy peanut butter
2 tablespoons Hiland butter, melted
2 large eggs
1 cup semisweet chocolate chips
Topping:
1 cup water
¾ cup light brown sugar
2 tablespoons unsweetened cocoa powder
Instructions:
Spray the inside of two 6 count extra large muffin tins or eight 4" ramekins. Place ingredients for the topping- 1 cup water, brown sugar and cocoa powder - in a small saucepan over medium heat. Stir until the sugar dissolves, about 3 minutes. Set aside.
Place the two brownie mixes, peanut butter, butter, eggs and ¼ cup water in a large bowl, and stir until well combined. Fold in the chocolate chips. Spoon batter into prepared molds, and spread it evenly on the bottom.
Note: Do not fill them over half way from the top.
Spoon 2 "muffin tins" - 3 "ramekins" Tbsp of the brown sugar topping over the batter in each mold. Place in 300 f oven for 20 min, use a spatula or spoon to spread any remaining liquid evenly over the pudding. Turn heat to 250 and continue cooking for an additional 15 minutes.
This sophisticated dessert is best made the day before serving.
Rich Coffee Chocolate Torte
1 pound good-quality semisweet or bittersweet chocolate, chopped
1 cup (2 sticks) Hiland Unsalted Butter
¼ cup Prairie Wolf Spirits Dark coffee liqueur
1 teaspoon Griffin's vanilla
7 large eggs, at room temperature
1 cup granulated sugar
"English Butter Toffee" from Woody Candy Company
1 cup Hiland Whipping Cream, whipped with powdered sugar to taste
Instructions:
Preheat oven to 350 degrees. Butter a 9-inch spring form pan, then line the bottom with parchment paper. In a heavy saucepan, combine chocolate, butter, coffee liqueur and vanilla over low heat until melted and smooth. Cool to lukewarm. With a mixer, beat eggs and granulated sugar until thick. This should take about 5 to 7 minutes and works best if the eggs are room temperature.
Fold ⅓ of the egg mixture into the chocolate mixture. Continue folding until completely combined. Fold remaining egg mixture into chocolate mixture. Place spring form pan on a baking sheet to catch any possible drips. Transfer batter to spring form pan. Bake about 55 minutes or until wooden pick shows moist crumbs when inserted into the middle of the cake. Cool completely in pan.
Cover with plastic wrap and refrigerate. This cake is best made a day before serving. Remove from pan when ready to serve. It's also best to let the cake sit at room temperature for about an hour before cutting and serving. Top with crushed "English Butter Toffee" from Woody Candy Company and freshly whipped cream.
The Made in Oklahoma Coalition provides a marketing and promotional platform to assist more than 45 current Oklahoma food manufacturers. M.I.O.'s marketing programs build brand preference and loyalty for member products. Coalition-member companies create a positive impact on the Oklahoma economy by helping put more than 27,000 people to work. These member companies generate over 3.5 billion in annual sales for Oklahoma. Collective and cross-marketing programs, organized by the coalition, increase sales throughout the state, nation and abroad. The M.I.O Coalition continues to expand the footprint of Oklahoma's food processing sector through business retention and stable growth. M.I.O., Good for you. Good for Oklahoma. For more information visit http://www.miocoalition.com.