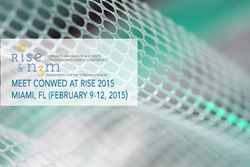 Minneapolis, MN (PRWEB) February 03, 2015
Conwed, the leading plastic netting manufacturer in the world, will be present at the RISE 2015 Conference in Miami, FL (February 9-12, 2015). The Research, Innovation & Science for Engineered Fabrics Conference is an annual gathering organized by the Association of the Nonwoven Fabrics Industry (INDA). R&D, technical and business development professionals explore the most recent trends in research and development applied to engineered fabrics.
Conwed netting is used as a reinforcement material with diverse substrates such as film, foil, paper, foam, nonwoven and other types of fabrics. "RISE is the ideal venue to meet with other developers and exchange views about what's next and what's needed in the industry", said Ivan Soltero, Strategic Marketing Manager at Conwed. "Our netting portfolio can be used in very dissimilar applications. So we continue to support any potential technology improvements or additions that could help our customers develop their next product innovations".
For more than four decades, Conwed has been considered the partner of choice in product development. "Our R&D and engineering teams understand our prospects know what they need to accomplish, but may not be aware how our netting could help them get there. We are willing to push the limits of our technology if it means helping our customers develop new products and grow their business", said Mary Liz Cahill, Business Development Manager at Conwed.
Two advanced technologies, co-extrusion and bi-component netting, confirm the company's leadership in netting development. Co-extrusion is a multi-layer extruded netting than can be subsequently oriented where different polymers can form different layers on the same netting configuration. It is a square netting construction and Conwed has the ability to build netting with A/B, A/B/A, and A/B/C layer combinations. Bi-component netting is made of two different materials, one in each opposite direction, forming the web. Conwed can combine different, compatible resins, in the same netting configuration but in opposite directions
Among many other strengthening materials used in nonwovens and engineered fabrics, plastic netting is commonly used as a reinforcement layer to create lightweight yet strong composites. The versatility of plastic netting allows OEMs, manufacturers and converters to create composites through extrusion coating, thermal, wet and dry lamination, ultrasonic welding and diverse nonwoven processes. For a complete overview of how Conwed netting can be incorporated with other substrates, visit http://www.conwedplastics.com
About Conwed
Conwed is the leading plastic netting manufacturer in the world. Conwed manufactures extruded, oriented and knitted netting with unique customization capabilities. Headquartered in Minneapolis, Minnesota, Conwed has five manufacturing locations on two continents and a global distribution network.