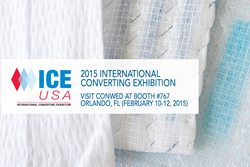 Minneapolis, Minnesota (PRWEB) February 05, 2015
Conwed, the leading plastic netting manufacturer in the world, will display its latest co-extrusion netting technology at ICE USA 2015 in Orlando, FL (February 10-12, 2015). The International Converting Exhibition - USA is organized every three years and gathers global and regional manufacturers, OEMs and converters from diverse industries. Organized by Mack Brooks Exhibitions Group and considered one of the premium events in the converting industry, it showcases machinery, services and materials from all key areas and processes of converting.
Conwed manufactures a wide range of netting configurations suitable for diverse manufacturing and converting processes. Promoted at ICE as The Ultimate Reinforcement Material™, plastic netting acts as a reinforcement element to create lightweight but strong composites with other substrates. Conwed netting can reinforce film, foil, paper, bubble wrap, foam, nonwoven and other types of fabrics. "Our netting materials are an exceptional alternative to create products that require higher tensile strength relatively to their low weight", said Ivan Soltero, Strategic Marketing Manager at Conwed. "Whether it is reinforcing lightweight disposable wipes, creating bubble-wrap strong enough to protect auto parts, or strengthening radiant barrier foil for energy saving applications, our netting technology is versatile and customizable".
Among the most advanced netting technology, co-extrusion is gaining recognition for its flexibility and processing features acting as a bonding element in diverse composites. Co-extrusion is a multi-layer extruded netting than can be subsequently oriented where different polymers can form different layers on the same netting configuration. It is a square netting construction and Conwed has the ability to build netting with A/B, A/B/A, and A/B/C layer combinations. By using co-extrusion netting with adhesive layers, manufacturers and converters may eliminate adhesive steps in their manufacturing and converting processes for specific product applications. "We are glad to exhibit at ICE USA. It is the right venue to meet equipment manufacturers, converters and business development professionals looking for advanced materials such as co-extrusion netting", said Soltero.
The versatility of plastic netting allows OEMs, manufacturers and converters to create composites through extrusion coating, thermal, wet and dry lamination, ultrasonic welding and diverse nonwoven processes. For a complete overview of how Conwed netting can be incorporated with other substrates, visit the section Plastic Netting 101 at http://www.conwedplastics.com.
About CONWED
Conwed is the leading plastic netting manufacturer in the world. Conwed manufactures extruded, oriented and knitted netting with unique customization capabilities. Headquartered in Minneapolis, Minnesota, Conwed has five manufacturing locations on two continents and a global distribution network.