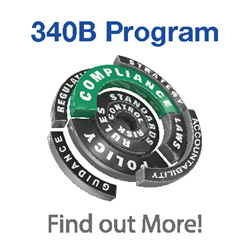 Knoxville, TN (PRWEB) February 04, 2015
Efforts to eliminate excessive pricing, diversion, and other perceived abuses of the 340B Drug Pricing Program have resulted in increased regulatory enforcement by the Health Resources and Services Administration (HRSA). HRSA has also indicated that it plans to issue proposed interpretive guidance in 2015 to address these program concerns. In light of this regulatory activity, 340B Program participants must take appropriate measures to assure their programs are properly structured to comply with regulations and to withstand an HRSA audit.
A new white paper from PYA, "340B Program: Scrutiny and Uncertainty Increase the Need for Compliance," provides an overview of the 340B Program, identifies key risk areas for Covered Entities, suggests compliance processes, and offers a checklist to help providers minimize risk. The white paper outlines the criteria for determining covered-entity status for program participation and also the conditions that constitute whether an individual is an eligible patient—an important consideration for avoiding diversion. Also addressed in this piece of guidance are Medicaid duplicate discounts, contract pharmacies, group purchasing organization prohibition, orphan drugs, and audit/sanctions.
What should you anticipate with HRSA's interpretive guidance, and what steps should you take to prepare? These are questions the white paper aims to answer. PYA can provide further assistance by assessing whether providers are in compliance with 340B Program regulations and advising on areas that may need additional focus.
PYA assists health systems in meeting challenges by providing education for governing bodies, leadership teams, and medical staffs; facilitating dialogue in the board room; performing governance effectiveness reviews; and identifying, developing, and implementing strategic initiatives.
---
About PYA-
For over three decades, Pershing Yoakley & Associates (PYA) has provided timely insight, strategic support, and exceptional professional service, helping clients thrive in the midst of rapid change. PYA is ranked by Modern Healthcare as the nation's twelfth largest privately held healthcare management consulting firm. For more information, visit http://www.pyapc.com/.