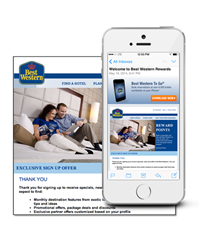 "Overall we have seen more than a 20 percent increase in revenue per email." - Ryun Lambson, Best Western International
New York, NY (PRWEB) February 05, 2015
Best Western International, THE WORLD'S BIGGEST HOTEL FAMILY®, was nominated as a finalist for the Direct Marketing News Marketing and Tech Innovation Awards for Email Marketing Innovation. The company, which sends over 20 million emails a month to subscribers and rewards programs members, recently partnered with Movable Ink, a leader in the Contextual Marketing space, to enhance the hotel's custom-built email system with more dynamic, personalized email campaigns.
Best Western initially tested the new email marketing initiative with Movable Ink in early 2014 and started rolling out campaigns in Spring 2014. By deploying Movable Ink's technology to power contextual content across existing email systems, Best Western was able to stream real-time web content from emails, target customers based on the context of when, where, and how they open, and optimize messages on the fly. By targeting people based on geography and by device, Best Western has seen significant email revenue growth and mobile engagement.
"Overall we have seen more than a 20 percent increase in revenue per email," says Ryun Lambson, Best Western International. "By better personalizing and targeting content, Movable Ink has really given an extra edge to our email marketing toolkit."
Throughout 2014, Best Western started building up different email campaigns and experimenting with new tactics. This year, the company is looking to build on those successes and continue leveraging Movable Ink's platform to create more personalized and contextually relevant content in email campaigns.
"In a world where more customers than ever are accessing emails from their phones, it's critical for brands to personalize content for the exact context of each customer," says Vivek Sharma, CEO of Movable Ink. "We're thrilled to continue working with Best Western and excited that their efforts to build contextual email campaigns have been recognized by Direct Marketing News."
About BEST WESTERN INTERNATIONAL, INC.
Best Western International, Inc., headquartered in Phoenix, Ariz., is a privately held hotel brand made up of more than 4,000* BEST WESTERN®, BEST WESTERN PLUS®, BEST WESTERN PREMIER® hotels in more than 100* countries and territories worldwide. Now celebrating 68 years of hospitality, Best Western welcomes hundreds of thousands of guests nightly. Best Western provides its hoteliers with global operational, sales, marketing and promotional support, and online and mobile booking capabilities. More than 20 million travelers are members of the brand's award-winning loyalty program Best Western Rewards®, one of the few programs in which members earn points that never expire and can be redeemed at any Best Western hotel worldwide.
About Movable Ink
Movable Ink®'s innovative technology enables marketers to create contextual content that is personalized for each individual customer's context, changing in real-time depending on current time, location, device, social context, and business rules. The company is based in New York City and backed by Contour Ventures, Metamorphic Ventures, ff Ventures, Kima Ventures and email veterans such as Bob Pittman, Andy Russell, Josh Baer, and Alan Laifer.