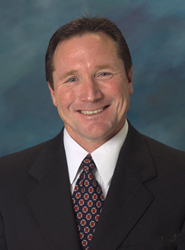 We are pleased to add Greg to our toll leadership team as we continue to grow and meet the needs of clients throughout the west.
SANTA ANA, Calif. (PRWEB) February 03, 2015
Greg Hulsizer has joined HNTB Corporation as vice president and toll market practice leader in the West Division. He brings more than 30 years of executive and board-level experience in leading high-profile public- and private-sector organizations.
In his role at HNTB, Hulsizer will focus on toll client service, strategic planning, recruiting and growing the toll practice. Although concentrating on operations in the west, he also will provide counsel for toll services that HNTB provides nationwide, including program management, managed lanes, public-private partnerships and the emerging area of road usage charges as a potential replacement of the gas tax. He is based in the firm's Santa Ana, California, office.
Hulsizer is well-known in the toll industry as the chief executive responsible for leading the construction, start-up and operations of California's two innovative public-private partnership toll facilities – the SR91 Express Lanes in Orange County and the SR125 South Bay Expressway in San Diego. He also started up and served as CEO of Cofiroute USA, Orange County Transportation Authority's operations contractor for the SR91 Express Lanes.
Additionally, he was a founding member of the California Toll Operators Committee. He also authored legislation and advised the California governor's and legislative analyst's office and legislative leadership on tolling and road usage charge-related issues. Hulsizer's experience also includes serving on the board of directors of the Chicago Skyway Toll Road System.
"We are pleased to add Greg to our toll leadership team as we continue to grow and meet the needs of clients throughout the west," said Jim Ely, HNTB chair toll services and senior vice president. "His diverse array of toll and P3 expertise will continue to build on HNTB's role as trusted advisor to toll agencies and state DOTs across the nation."
Prior to joining HNTB, Hulsizer worked with another consulting firm as vice president. In addition to his consulting, toll industry and public-private partnership experience, his career also includes 18 years in public administration, serving as city manager and other positions for three southern California cities.
Hulsizer is a frequent speaker and moderator at International Bridge, Turnpike and Tunnel Association national events, including serving as a faculty member for the IBTTA Leadership Academy. He earned a master's degree in public administration from California State University-Long Beach.
About HNTB
HNTB Corporation is an employee-owned infrastructure solutions firm serving public and private owners and contractors. HNTB's work in California dates back to its founding in 1914. Today HNTB continues to grow in size and service offerings to clients in California from seven office locations, currently employing more than 350 full-time professionals. With more than a century of service, HNTB understands the life cycle of infrastructure and addresses clients' most complex technical, financial and operational challenges. Professionals nationwide deliver a full range of infrastructure-related services, including award-winning planning, design, program management and construction management. For more information, visit http://www.hntb.com.