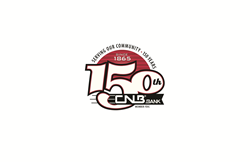 We are proud of this milestone and look forward to sharing it with all those who have played such an integral role in our history and longevity.
Clearfield, PA (PRWEB) February 05, 2015
Joseph B. Bower, Jr., President and CEO of CNB Bank, is pleased to announce that today marks the beginning of CNB Bank's year-long celebration of its 150th anniversary. A host of activities, dedicated to the CNB employees and customers who continue to make it all happen, will kick off with special promotions for customers, community events, and more.
The County National Bank of Clearfield was founded on February 5, 1865 by a group of Clearfield citizens. County National was reorganized in February of 1934 by virtue of a stock offering to existing depositors, and renamed The County National Bank at Clearfield. To simplify growth into additional market areas, the name was changed to County National Bank in 1965. In 1984, the Bank reorganized and became a wholly owned subsidiary of CNB Financial Corporation. This allowed the bank to expand its financial services. In 2006, the Bank converted from a national banking charter to a state banking charter, officially changing its name to CNB Bank.
CNB has shown impressive growth over the past 150 years. Fifty years ago there were about 70 employees, and by 1990 had grown to 124 employees. Today CNB employs 248 people working at 22 branches in eight counties throughout the state. CNB's headquarters remain in downtown Clearfield, which in 2014 was extensively renovated and expanded to more adequately house the Bank's growing operations center.
"It is amazing to be celebrating our 150th year of operation, and we want to share that with the employees and customers who together have built CNB into what we are today," said Mr. Bower.
Over the years, CNB's growth has included acquisitions and the formation of new divisions. In 2005 the company announced the formation of ERIEBANK, a division of CNB, headquartered in Erie, Pennsylvania. Today, ERIEBANK operates eight office locations and one loan production office serving customers in four counties.
CNB Financial Corporation entered into the consumer discount loan and finance business with the formation of Holiday Financial Services Corporation in 2005, which now has thirteen office locations. And in 2013, CNB expanded into Ohio with the opening of FCBank, now a nine branch network headquartered in Central Ohio.
As part of the year-long 150th anniversary celebration, each CNB branch will be hosting its own celebration for its customers. Promotional items featuring a specially designed 150th year anniversary logo will be given out all year. In addition, CNB will offer product specials to highlight the anniversary. The first is a CD special that will run through March.
150th anniversary contests will also mark the milestone. Beginning in March and running through the end of the year, you can stop by any CNB office and register to win a $150 weekly drawing. In addition, those who "Like" CNB Bank's new community Facebook page, http://www.facebook.com/CNBBankCommunity, will be entered to win the $150 weekly Facebook drawing, which also runs through the end of March.
"We are proud of this milestone and look forward to sharing it with all those who have played such an integral role in our history and longevity."
Based on strong, traditional values, CNB is dedicated to being the premier, financial service provider in our communities, focused on the changing needs of people and businesses by providing the highest quality service. You can find CNB online at http://www.BankCNB.com.