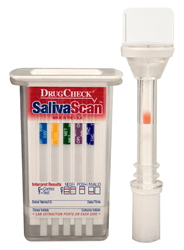 I am more than elated to announce that the first of many patents for the DrugCheck SalivaScan Oral Fluid Drug Test – the European patent – has been granted. – Paul Johnson, CEO
Blue Earth, Minn. (PRWEB) February 04, 2015
Express Diagnostics Int'l, Inc. (EDI), today announced that its patent for the DrugCheck® SalivaScan™ Oral Fluid Drug Test, titled "Device for Verifying Analytes in Bodily Fluids," was approved by the European Patent Office. The patent is currently pending with the U.S. Patent and Trademark Office (USPTO Patent Publication Application Number: 20130022517).
"I am more than elated to announce that the first of many patents for the DrugCheck SalivaScan Oral Fluid Drug Test – the European patent – has been granted and published," says Paul Johnson, CEO of Express Diagnostics Int'l, Inc. "This is a significant milestone for Express Diagnostics. The granting of this patent, and the expected forthcoming U.S. patent, represents another asset in our intellectual property portfolio and in the value we are gaining as a company.
"With the issuance of the European patent, we fully expect the U.S. patent – the most valuable patent – to be granted and published in early 2015." Adds Johnson, "Again, this is a great accomplishment for Express Diagnostics. I'd like to thank everyone for their work in both the product development and patent application processes, and most importantly, for our customers' continued support of this innovative product."
Leading features of the DrugCheck SalivaScan include an integrated sponge saturation indicator in the collection swab that notifies test administrators when sufficient specimen has been collected. Determining adequate specimen according to the color change on the indicator strip helps reduce the potential costs of test failure due to insufficient specimen often associated with competing saliva devices.
The collection swab locks into the DrugCheck SalivaScan for a tamper-evident seal. The device can then be sent to a laboratory for confirmation, on a presumptive positive result. Dual side extraction ports simplify specimen access for laboratory personnel.
The device can screen simultaneously for up to 10 drugs of abuse, with 16 total available, including market-leading cutoffs, or detection levels, for buprenorphine, cotinine, EDDP, ketamine, and methadone. Express Diagnostics manufactures the DrugCheck SalivaScan at its ISO 13485:2003-certified facility in Blue Earth, Minn.
The DrugCheck SalivaScan is for Forensic Use or export only. Forensic Use in the U.S. is limited to criminal justice or government agencies, including correction centers, court systems, jails, police departments, probation offices, the Department of Defense, U.S. military, and laboratories performing forensic testing for these entities.
About Express Diagnostics Int'l, Inc.
Express Diagnostics Int'l manufactures and distributes DrugCheck® onsite urine and saliva screening devices for the detection of drugs of abuse, as well as a growing catalog of rapid alcohol screening and health diagnostic devices. With accuracy comparable to laboratory testing, Express Diagnostics onsite devices provide a variety of industries fast, cost-effective alternatives to higher-priced lab services. Learn more at drugcheck.com.