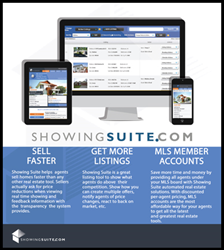 Since Showing Suite's system is designed to work with the MLS, the MLS integration is an easy one.
San Diego, CA (PRWEB) February 05, 2015
Showing Suite, Inc. announces they will provide their showing feedback and management software to Calaveras County Association of REALTORS®' MLS. As a collaborative effort between Showing Suite, CALIFORNIA ASSOCIATON OF REALTORS®, and Calaveras County Association of REALTORS® (CCAR), this partnership will provide the free Showing Suite MLS system to all CCAR members.
"At CCAR we are very excited to offer Showing Suite to our members. Showing Suite's free MLS version made the decision an easy one. Specifically, their management platform and ease of access for scheduling showings are a few things that will be great member benefits and we are happy to incorporate them. We like to be on the lookout for new technologies to incorporate that will be right for our association and feel like we have found just that."
-Valerie Moon, Association Executive of CCAR
Showing Suite will integrate with CCAR's MLS platform, Core Logic Innovia. A "Schedule a Showing" button will now be displayed on all their listing pages where buyers' agents can schedule a showing right within the MLS. The free MLS edition comes equipped with email confirmations for scheduled showings. Agents can also add contact information, create showing tours and maps, ask questions to the listing agent and give buyers access to Showing Note.
All CCAR members will have the option of upgrading to Showing Suite Ultimate where they will have the added capabilities of call and text confirmations for showings. The Ultimate edition also comes with Showing Suite's award winning Home Feedback system. Home Feedback links directly to the lockbox to send automated showing feedback requests to those who have done showings. The seller, buyers' agent, and listing agent Showing Suite portal also gives the ability to see feedback statistics and give valuable feedback to sellers to help with any necessary changes that need to be made to the listing.
Since Showing Suite's system is designed to work with the MLS, the MLS integration is an easy one. This provides for a smooth transition when any agent wants to upgrade and incorporate the time saving structures designed by Showing Suite. Designed by REALTORS® specifically for real estate professionals, Showing Suite is an obvious choice due to its ability to work seamlessly with the whole home selling process.
About Calaveras County Association of REALTORS®
CCAR is locating in California's Calaveras County. Their mission is to have a beneficial influence on the real estate and related industries while uniting those engaged in the recognized branches of the real estate profession. They strive to provide quality resources for their members and have an active voice in their community. For more information visit http://www.CalaverasRealtors.com.
About Showing Suite, Inc.
Showing Suite, Inc. develops and implements market-leading tools that allow real estate professionals to sell homes smarter and faster. Since 2001, the company has brought a suite of web-based software solutions for the real estate sector to market, including its flagship product, HomeFeedback®, as well as Home Followup, Listing Sync, Showing Sync®, ForeclosureFeedback®, and Showing Calendar®. Since inception, Showing Suite™ has helped more than 900,000 real estate professionals in the U.S. and Canada retrieve valuable feedback from potential buyers to increase home sales. Visit http://www.ShowingSuite.com for more info.
# # #
If you would like more information about this topic, please contact Michelle Costa at 858.270.1055 or email at MichelleC(at)ShowingSuite(dot)com.