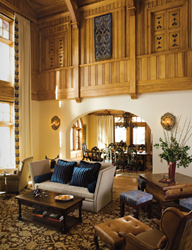 San Francisco, CA (PRWEB) February 04, 2015
Interior designer Kathy Geissler, Best of Kathy Best Design, is thrilled to have her elegant Alpine-style ski escape featured on the cover of esteemed lifestyle publication Gentry Home Magazine. The stunning three-story home, built by award-winning architects at John Malick & Associates, is a true mountain masterpiece and one of Kathy's most prized projects. Kathy created the elegant abode for a family of five after her longtime clients said that they were ready to build a ski house inspired by the Tyrolean style winter homes they had seen while abroad in Austria.
Utilizing traditional materials such as stone, stucco, shingles, well-crafted woodwork, and copper-clad windows, the elegant ski abode's intricate exterior detailing clearly reflects its Austrian aesthetic. The photographs that grace Gentry's glossy pages display the designer's ability to balance antique Tyrolean-inspired elements with modern accents. The article delves into Kathy's masterfully crafted design details, such as how she custom designed a one-of-a-kind floral leitmotif to use throughout the home. With its bespoke details and Old-World appeal, the designer is proud to showcase a family ski home tailored to perfection.
To view Kathy's full feature in Gentry Home Magazine and learn more about the designer's project, please read the article here: http://editiondigital.net/publication/?i=241407&p=30
About Kathy Best
Kathy Geissler Best is the principal designer and CEO of Kathy Best Design, an ASID award winning, full-service, interior design firm. With a passion for the visual world, Kathy draws inspiration from fashion, Nature, Old World Masters, and travel explorations. Since the formation of her design firm, Kathy has had the privilege of designing many homes in the San Francisco Bay Area, Washington State, and Virginia, including six of her own. Her first degree was a BA from the University of Washington in Seattle, where she graduated summa cum laude with a major in German Language and Literature and a minor in Art History. After living and working in Munich and London, Kathy moved to San Francisco. She earned an MBA in International Business and Marketing from San Francisco State University and worked in office furniture sales representing predominantly Knoll International. Determined to work as a designer, Kathy pursued a BFA in Interior Design from the Academy of Art University in San Francisco, graduating with honors and a focus on furniture design. The designer was recently honored as a 2015 Designers of Distinction finalist in the Residential-Traditional category.