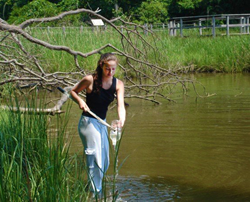 "Our facilities are superior, and with our great faculty, our students transfer throughout the country. ACM has great opportunities for science scholarship."
Cumberland, MD (PRWEB) February 03, 2015
Girls 2 Scientists, an event to encourage more girls to study the sciences and pursue rewarding careers in biology, chemistry, physics, forestry, nanotechnology, biotechnology and environmental science, will take place Friday, Feb. 20, at Allegany College of Maryland.
This evening program, designed to show girls that the science disciplines are well worth considering, is spearheaded by women faculty members in ACM's Science Division.
"We have great faculty and excellent teachers," said Roberta Mills, division office manager for ACM's three campuses. "Our facilities are superior, and with our great faculty, our students transfer throughout the country. ACM has great opportunities for science scholarship."
Girls 2 Scientists features laboratory exercises crafted to demonstrate that science is not only challenging and rewarding, but also fun. Activities such as "Let's Blow Stuff Up!" (chemistry) and "Rock On! (geology) help make that point.
Above all, the evening is intended to open eyes and steer girls to study a science field and to boost them toward rewarding careers in science and science-related fields.
Organizations such as the Association for Women in Science and efforts such as Women in Science, Technology, Engineering and Mathematics, supported by the National Science Foundation, are making the case that science is a worthwhile study pursuit for girls.
"From an early age girls are dissuaded from science, engineering, math and technology in our culture," said Christina Badger, an ACM visiting instructor who will give the event's keynote address. "Unconsciously," she adds, "the toys, games, media -- and even how some schools market curricula -- sway girls away from the sciences."
Girls 2 Scientists begins at 5:30 p.m. with a welcome by ACM's president, Dr. Cynthia Bambara, and an introduction by Dr. Donna Brunelli, associate professor of biology. Badger, assistant professor of microbiology, focuses on the theme in her talk, "Girls Make Great Scientists."
Students, their female friends, family members and teachers will then tour the Science Building before visiting science labs for exercises presented by ACM female science faculty members.
The activities include: "Let's Dissect!" by Cynthia Carnahan, assistant professor of anatomy; "Lasers," by Dr. Bettie A'Hearn, professor of physics; "Trees are Cooler Than You Think," by Marie Perrin Miller, instructor of forestry; "Let's Blow Stuff Up" by Yunxuan Yang, assistant professor of chemistry; and "Rock On!" by Stacie Rafter, assistant professor of biology.
The evening concludes with an overview of science study options at ACM and opportunities to continue in science with transfer to four-year colleges and universities.
Interested students are encouraged to bring friends and to register in advance to ensure space and be eligible in a drawing of door prizes. Mills, the Science Division officer manager, can be reached at 301-784-5255 or rmills(at)allegany(dot)edu.