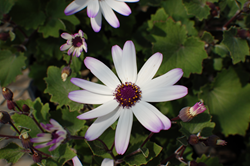 Use Senetti® to add instant color to any outdoor space.
Tokyo, Japan (PRWEB) February 05, 2015
The Senetti® pericallis collection from Suntory® Flowers will brighten up the chilly spring season with bursts of color and bold contrast.
Known as the first flowers of spring, Senetti® pericallis thrive in conditions as cool as 35 degrees and hold an upright, bushy habit. The Baby Senetti® pericallis group boasts more compact and smaller blooms than the original group.
A variety of vivid color palettes really sets the Senetti® collection apart from other early spring blooms. The Senetti® line is now available in 17 eye-catching shades.
"Use Senetti® to add instant color to any outdoor space," said Delilah Onofrey of Suntory Flowers. "The bright hues bring a warm welcome to the early spring season. "
In addition to making an unforgettable impact with color, the Senetti® collection also charms with its impressive size. Each plant can produce as many as 200 three-inch flowers that rebloom after being cut back. The collection prefers full sun to partial sun conditions with even and consistent watering.
Senetti® Superstars
As the newest member of the Suntory collection, the Senetti Blue Eye® pericallis makes a powerful colorful impact. The white bloom is offset with a striking dark navy blue center. Under the right conditions, the flower petals can also develop dark blue tips. Blue Eye grows to about two feet in height and width.
This overall neutral bloom can easily add subtle pops of color to any garden.
The popular Baby Magenta Bicolor® bloom packs contrasting, bold hues into a small amount of space. The compact plant's flowers grow 1.5 inches in diameter, but still remain high in number.
The flower sports a dark magenta center ringed by fluorescent white. The magenta petal tips surround the white ring and match the center of the bloom.
"Senetti® Baby Magenta Bicolor is hard to miss and stands out in a stunning way," Onofrey said. "What it lacks in size, it makes up for in striking contrast."
For more information about Senetti® pericallis and to view the entire collection, visit SuntoryFlowers.com.