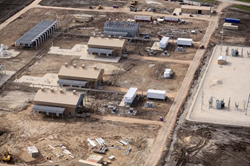 Boulder, CO (PRWEB) February 03, 2015
Genscape has been leveraging its proprietary monitoring technologies to provide insight into the progress of the NET Mexico pipeline, a significant addition to U.S. export capacity to Mexico. When complete in late 2015, it will be capable of delivering 2.1 Bcf/d of gas to Mexico, primarily to fulfill new power plant demand.
Aerial imagery taken by Genscape on January 22 shows (Genscape, February, 3, 2015, http://www.genscape.com/blog/net-mexico-pipeline-construction-progress-visible-proprietary-monitoring) that the two inner compressors at the station seem to be completed, while the two outer units are still under construction.
Infrared imagery acquired by Genscape field agents on February 1 showed only one of the four compressors running and one of the two fan cooling systems as active.
A NET Mexico press release on November 17, 2014 stated that the pipeline will initially operate with 50,000 HP of compression, which will be expanded to 114,000 HP by late 2015 (EagleFordTexas.com, http:// http://eaglefordtexas.com/news/id/140164/pipeline-will-pump-eagle-ford-gas-help-fuel-mexico/). When complete, the NET Mexico pipeline will be fed by two interstate pipelines, seven Texas intrastate pipeline, and four gas processing plants. According to exclusive satellite and aerial imagery acquired by Genscape, it appears there is only one interconnection still under construction.
In addition to the interstate connections, gas will also be supplied to NET Mexico by seven Texas intra-state storage pipelines: Eagle Ford Midstream (also owned by NET), Enterprise Intrastate Pipeline, Enterprise Texas, Houston Pipe Line, Kinder Morgan Tejas, Conoco Lobo, and Southcross. According to official filings, at least some of the interconnections will be bidirectional, two of which are TGP and NGPL (Neubus, https://rrcsearch3.neubus.com/esd3-rrc/index.php?_module_=esd&_action_=keysearch&profile=12). The interconnections are spread out around the NET Mexico Compressor station at Agua Dulce, all within around 2.5 miles of the station.
NET Mexico will also be fed by four gas processing plants in 2015: Exxon's King Ranch plant, DCP's LaGloria and Gulf Plains plants, and Enterprise's Delmita plant. Official filings say that NET Mexico will begin construction on its LaGloria, Gulf Plains, and Delmita pipeline sections in April 2015. According to aerial imagery, it is likely that the King Ranch interconnection has already been completed, although it is unclear whether or not gas from it has been delivered to NET Mexico at this point.
Genscape is in the process of installing various monitoring technologies to track the progress of the NET Mexico pipeline and compressor station, and will continue to provide updates on its construction and operation. Ongoing updates are provided to Genscape Natural Gas Basis clients. Additional information about the service and free trials are available at: http://info.genscape.com/natgas-basis-report. Aerial photos and additional detail regarding today's update are available on the Genscape blog at: http://www.genscape.com/blog/net-mexico-pipeline-construction-progress-visible-proprietary-monitoring
About Genscape
Genscape is the leading global provider of real-time data and intelligence for commodity and energy markets, driven to improve market transparency and efficiency. With thousands of patented monitors strategically deployed worldwide, Genscape is unique in its ability to collect and report proprietary market fundamentals in real-time or near real-time. Genscape delivers innovative solutions across a number of asset classes including: Oil, Power, Natural Gas and LNG, Agriculture, Petrochemical and NGLs, Maritime, and Renewables. Genscape clients often improve risk management or increase operational efficiency. For more information, please visit: http://www.genscape.com