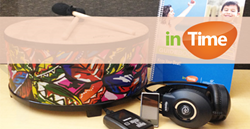 inTime offers a safe, enjoyable and effective solution for children who have special health care needs
Ogden, Utah (PRWEB) February 04, 2015
The informal study released today was conducted by Lori Riggs, M.A., CCC/SLP and the National Association for Child Development examined the effects of inTime on children with special health care needs. 37 children participated in the study who had previously completed The Listening Program®. The purpose was to investigate parent perceptions on the effectiveness of inTime for their children following 8 weeks of listening, which is just one half of the suggested protocol. 89% of the parents reported that their child enjoyed inTime, the majority of whom would recommend to other families based on their experience. Changes were noted related to improved communication and reading, better rhythm and coordination, decrease in sensory behaviors, better memory, and an increased sense of calm. The results are consistent with a prior study conducted by investigators at Advanced Brain Technologies with 58 children and adults in 2013.
The inTime method provides a personalized program of rhythm-based music listening training and fun beat-based activities, using body, drum, and voice to stimulate changes in self-regulation, sensory-motor function, and interaction.
Created and produced by occupational therapist Sheila Allen, composer and musician Nacho Arimany, and author, founder & CEO of Advanced Brain Technologies, Alex Doman, inTime is an organic compilation of original compositions, based on a blend of world music with diverse percussion, string, and wind instrumentation, which accents the power of rhythm and sound frequencies.
"inTime offers a safe, enjoyable and effective solution for children who have special health care needs", said Alex Doman, founder and CEO of Advanced Brain Technologies. "Rhythm and timing are essential to optimal brain and body performance. inTime, provides an unique opportunity for brain training through the practice of rhythm-based music listening with an emphasis on beat synchronization."
Special Health Care Needs, as defined by the Department of Health and Human Services as those who have or are at increased risk for chronic physical, developmental, behavioral, or emotional condition and who has also required health and related services of a type or amount beyond that required by children generally. A 2009-2010 report from the National Survey of Children with Special Health Care Needs reports the prevalence of CSHCN in children is 15.1% in the United States, with higher occurrence in males.
inTime is available exclusively through Advanced Brain Technologies and an international network of inTime providers http://advancedbrain.com/intime
About Advanced Brain Technologies
Founded in 1998 by Alex Doman, Advanced Brain Technologies based in Ogden, Utah (http://advancedbrain.com) is an innovative, evidence-based solutions creator serving people who wish to make a positive change in their lives or the lives of others.
ABT's flagship product line, The Listening Program® (TLP) is a family of innovative, evidenced-based music listening therapy solutions. TLP and inTime are offered through a global network of occupational therapists, speech and language pathologists, physical therapists, psychologists, physicians, and well as other clinicians and educators in over 35 countries. To learn more call 801-622-5676.