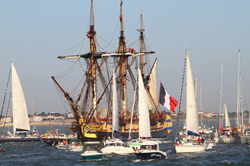 The relationship between France and the United States is a long and honorable one.
Newport, RI (PRWEB) February 04, 2015
Twenty years ago a small group of visionaries met in France and imagined reconstructing an exact replica of The Hermione, the French ship of war that carried the young Marquis de Lafayette to General Washington. The Marquis pledged French support for the American insurgents. He worked tirelessly to assist our colonial enterprise. The result turned the tide of the American Revolution at the Siege of Yorktown in 1781.
Hermione's reconstruction became a regional, then national attraction in Rochefort, France. The idea grew to recreating Lafayette's voyage, with visits to the iconic port cities of the American Revolution. Newport, RI is one of those cities.
Miles Young, a principal visionary behind Hermione's visit to the United States believes, "The relationship between France and the United States is a long and honorable one. France came to our aid during the Revolutionary War by sending some of her best and brightest, the Marquis de Lafayette being one. They came to help us against the threat of the day, Great Britain, but they also came out of a belief in individual liberty – in freedom. This friendship has lasted through world wars into today."
Speaking with enthusiasm, Roger Begin, Honorary Council of France to Rhode Island, said of Hermione's visit, "While we're early in the planning stages for Rhode Island's participation, the goal is to make this a series of statewide events that will emphasize our role in the Revolutionary War and the start of the Franco - American Alliance."
On July 8th and 9th The Hermione will be docked at Fort Adams State Park in Newport. "We believe that this is a unique opportunity to celebrate this vessel's history, as well as tying that history into the story of Newport and of Fort Adams," says Richard Nagele, Executive Director of the Fort Adams Trust.
"Fort Adams was designed by the French, so this is a combined celebration of architecture, engineering and history. We look forward to designing unique experiences here at Fort Adams for the days that Hermione will be in port," continues Nagele.
For further updates on The Hermione's visit to Newport, visit http://www.hermione2015.com.
About the Fort Adams Trust
The Fort Adams Trust is a 501 (c)(3) non-profit responsible for preservation, programming, and promoting the National Historic Landmarks in Fort Adams State Park in Newport, Rhode Island. Over 100,000 people tour the Fort and attend events in the Park annually. The Trust accepts donations to support its preservation and programming missions. http://www.FortAdams.org
About Newport, Rhode Island
Newport, often called the City by the Sea, is also referred to as "New England's second global city." In addition to the incredible historic destinations and cultural activities, great restaurants and shops, and unrivaled scenic beauty, there is a cosmopolitan sophistication to the City. International visitors abound and you can hear multiple languages on the streets. http://www.discovernewport.org
For more information, contact:
Roseanna Gorham - roseannagorham(at)verizon(dot)net
Cara Wortley, Event Manager, The Fort Adams Trust - cwortley(at)fortadams(dot)org
Richard Nagele, Executive Director, The Fort Adams Trust - rnagele(at)fortadams(dot)org