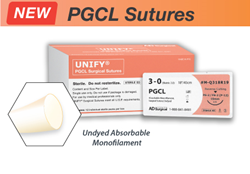 [PGCL] is comparable to Ethicon's Monocryl sutures with very similar handling characteristics and resorption profile.
(PRWEB) February 05, 2015
Today, AD Surgical announced the addition of PGCL sutures to its growing line of UNIFY Surgical Sutures. UNIFY Surgical Suture is a top-rated product with quality comparable to those of the market leader Ethicon, but at a significantly lower cost.
"AD Surgical is excited to add PGCL to our suture portfolio," said Dr. Brian Tang, President of AD Surgical. "PGCL is a monofilament synthetic absorbable suture which is a copolymer of glycolide and caprolactone. It is comparable to Ethicon's Monocryl sutures with very similar handling characteristics and resorption profile, and is one of the most popular suture types among all surgical disciplines."
UNIFY PGCL suture has low tissue reactivity and maintains 50% in-vivo tensile strength at 7 days and 20% at 14 days. Total absorption in tissue takes around 90 to 120 days. Being monofilament, the suture is smooth, making it easier to pass through tissue as compared to braided sutures. It has a consistency close to nylon suture material. PGCL suture is generally used for soft-tissue approximation, subcuticular dermis closures of the face and as a ligature. It is rarely used for percutaneous skin closure and is not used in areas of high tension. The suture is absorbed in tissue by simple hydrolysis and known for reliable absorption.
UNIFY PGCL sutures are available from U.S.P. size 1 to size 6-0. The sutures are available in undyed color. Each box of UNIFY Surgical Suture contains 12 individually sterilized foil packs of suture and one instruction sheet. The suture is sterilized with Ethylene Oxide (EO) gas and has a shelf life of 3 years from the manufacturing date. All UNIFY Surgical Sutures exceed the requirements of the United States Pharmacopoeia (USP) and FDA regulations. For more information or to purchase UNIFY Surgical Sutures, please visit their website at http://www.AD-Surgical.com or contact their customer service at (888)841-8481.
About AD Surgical
As the prices of surgical products continue to skyrocket, most surgeons are looking for more cost effective solutions without compromising quality. AD Surgical is a unique company that provides the highest quality surgical essentials at very reasonable prices. All of their products are designed and developed in the United States by a team of licensed medical professionals. 90% of their products are manufactured in their own manufacturing facility, which allow them to offer top quality products at factory direct prices that are up to 80% lower than that of competitors. More information is available at http://www.AD-Surgical.com.