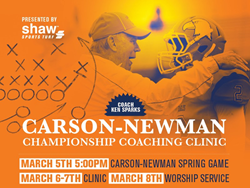 Jefferson City, Tennessee (PRWEB) February 04, 2015
Coach Ken Sparks of Carson-Newman University has announced the speakers for this year's Championship Coaching Clinic.
The clinic, which will take place from March 6-8 in Pigeon Forge, Tennessee, is presented by Shaw Sports Turf.
Sparks, who is the active winningest coach in NCAA football, and fifth on the all-time list, hosts the clinic for high school coaches and their wives each year, and attracts as many as 400 coaches. Amazingly, the cost for a coach and his wife to attend is only $30 for preregistration and $35 for those registering at the event.
Among the speakers for this year's event are:
Clyde Christensen serves as the quarterbacks coach for the Indianapolis Colts. He has been with the team since 2002 and the Colts have made numerous trips to the playoffs and have appeared in two Super Bowls since Christensen has been there, winning the big game in 2006.
Christensen has also coached with Tampa Bay, Clemson University, the University of South Carolina, Holy Cross, Temple University, East Carolina, and East Tennessee State.
Tommy Tuberville is the head football coach at the University of Cincinnati, where he has been since 2012. He is also President of the American Football Coaches Association. Prior to becoming the head coach at Cincinnati, Tuberville was head coach at Teas Tech, Auburn University, and Ole Miss.
Butch Jones is the head football coach at the University of Tennessee. Prior to his current position, Jones was the head coach at Cincinnati and Central Michigan.
Billy Napier is the wide receivers coach for the University of Alabama. Prior to coming to Alabama, Napier coached at Colorado State, served as offensive coordinator at Clemson, and coached at South Carolina State.
Jerry Moore is the former head coach at Appalachian State University. In 24 seasons, Moore only had one losing season and won the Division I-AA National Championship in 2005. Moore also served as head coach at Texas Tech and the University of North Texas during a career where he compiled a record of 242-134-2.
Fred Goldsmith is a longtime college coach who led the programs at Lenoir-Rhyne, Duke, and Rice. He also coached collegiately at Arkansas, Air Force, and Florida A&M.
Also, Carson Newman's coaching staff will be presenting, as will psychologist Dr. Farris Jordan, Coach Bill Kramer from Naples High School in Florida, Coach Jet Turner from Broome High School in South Carolina, and Coach Chris Bell from Oak Mountain High School in Alabama.
For those wishing to come a day early to enjoy the Great Smoky Mountains and to see Carson-Newman's spring football game, the game will take place Thursday, March 5, on the school's Shaw Sports Turf field.
Registration for the clinic is open. Coaches can register by calling 865-471-3466. Attendees should make room reservations with the host hotel by calling the Music Road Hotel at 800-429-7700 or emailing resv(at)musicroadhospitality(dot)com.
About Shaw Sports Turf
A wholly-owned subsidiary of Berkshire Hathaway Inc., Shaw Industries is a full flooring provider to the residential and commercial markets. Shaw supplies carpet, hardwood, laminate, resilient, and tile/ stone flooring products, as well as synthetic turf. Shaw Sports Turf is one of the leading synthetic turf companies in North America and has represented quality and innovation for more than two decades with over 1,500 successful installations, including an impressive list of high-profile field installations. For more information please visit http://www.shawsportsturf.com, call 866-703-4004 or find us on Facebook.