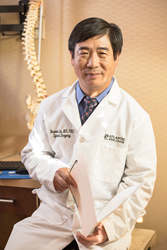 "Everyone was very welcoming and considerate of my time; extremely professional and warm, comfortable atmosphere" - Maryanne, Attendee, January 2015
West Orange, New Jersey (PRWEB) February 05, 2015
Atlantic Spine Center is hosting two public spine seminars this month in New Jersey.
Thursday, February 12, 2015 the Atlantic Spine Center team will be hosting a back pain seminar that helps explain and clarify the different types of spine procedures that are focused around minimal recovery downtime for the patient.
On Tuesday, February 24, 2015 the discussion will focus on the pros and cons of true Minimally Invasive procedures and the conditions that warrant and respond well to these outpatient surgeries.
Spine Surgeon, Dr. Kaixuan Liu MD, PhD, will be the primary speaker at both seminars this month. Dr. Liu will take questions from the audience during each presentation and then talk one on one with as many attendees as time allows following the lecture. Staff from Atlantic Spine Center will also be on hand to assist with any additional questions or to schedule call backs for a more private discussion of concerns or questions about spine surgery.
Please visit the Atlantic Spine Center website or go directly to the seminar info and registration page at: http://www.atlanticspineseminar.com/