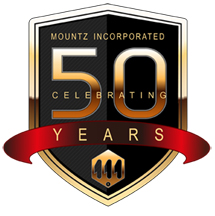 San Jose, CA (PRWEB) February 05, 2015
This year marks the 50th anniversary for Mountz Inc. in business. Mountz is truly honored to have reached such a major milestone with the help from all of our customers as well as current and former employees. Mountz is based in San Jose, California and provides innovative torque tool solutions and metric fasteners to a variety of industries like aerospace, automotive, electronics, semiconductor, chemical, petrochemical, renewable energy, medical, packaging and more.
Mountz was founded by Donald Mountz in 1965, a native Californian, with a passion to provide the highest quality torque tool products and customer service to world class manufacturing companies. Mountz began its business before the metalloid element - the silicon wafer was in production and certainly before the name Silicon Valley became a descriptor for the technology valley that was once filled with fruit orchards. As such, Mountz is located in the Enterprise Zone of San Jose, which is a stone throw from the old fruit packing and cannery plants of San Jose's original economy.
Don Mountz began his career in industrial sales in San Francisco. He excelled at selling, understanding buyer needs from his early training at General Foods Company. Having worked for international companies and in Europe, Don made the decision in 1965 to start his own business in his home state. With more good ideas than money, he settled in the South Bay, which is part of San Francisco Bay Area. DG Mountz Associates was formed in small bedroom of a new home in Cupertino, California a mile or so from the current Apple Computer World headquarters.
A study in Bloomberg Business Week magazine claims that one-third of all Fortune 500 companies active in 1970 had vanished by 1983. In the fast-paced world of Silicon Valley, flush with IPO's angel investing, mergers and acquisitions, corporate existence is measured on an entirely different scale than longevity. The average lifespan of a company listed in the S&P 500 index of leading US companies has decreased by more than 50 years in the last century, from 67 years in the 1920s to just 15 years today, according to Professor Richard Foster from Yale University.
Mountz is a pioneer in developing torque testers and torque sensors. In 1971, Mountz developed the ETA 1 electronic torque tester setting a new standard for measuring torque. Since then, Mountz has engineered and manufactured 17 generations of innovative torque testers and will continue develop the next standard in torque testing instruments.
In 2013, Mountz won a coveted award from the Wonderlic company – one of only 10 companies in the USA selected for high employee engagement; 1% of total applicants won this award. In 2014, Mountz was named one of the "Top Workplaces in 2014" by Bay Area News Group. Only 100 companies were recognized. Both awards are generated from comprehensive employee feedback surveys. Mountz is an ISO 9001 registered and ISO 17025 accredited company.
Today, Mountz, Inc. remains a privately owned business, with Brad Mountz serving as President & CEO. The company continues to specialize in fastening control products (assembly, test equipment and fasteners). Without quality and torque control, our daily lives would not be the same. For 50 years, the core purpose of Mountz has been and will continue to be, "Making a safer world through accuracy and precision".
To honor 50 years, Mountz will be sharing a look back at the company history once a week with blog posts and social media platforms. Be sure to check out our weekly 50th anniversary posts.