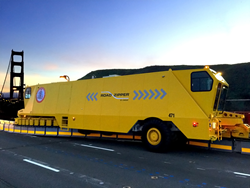 Omaha, Neb. (PRWEB) February 03, 2015
Golden Gate Bridge drivers said goodbye to unprotected lanes on Jan. 12, after the bridge was closed for a record 44 hours during the installation of a Road Zipper System custom-engineered by Lindsay Transportation Solutions.
The bridge's closure caused a longer weekend commute for drivers, but many welcomed the delay in exchange for the major safety upgrade. The Road Zipper System, which consists of a moveable barrier and Road Zipper machine, replaced the 19-inch tall, 4-inch diameter plastic tubes previously separating outbound (north) and inbound (south) traffic.
Lindsay Transportation Solutions partnered with the Golden Gate Bridge, Highway & Transportation District to engineer this streamlined version of the Road Zipper machine, which was custom-made in Rio Vista, California and Lindsay, Nebraska to fit the Golden Gate Bridge's six narrow lanes. The new 11,500-foot moveable barrier is made up of 3,500 individual units, each weighing 1,500 pounds that are pinned together to form a chain. Its sturdy structure is tested to withstand the force of a 4,400-pound truck traveling at 62-miles per hour, virtually eliminating crossover collisions.
In addition to virtually eliminating crossover collisions, the moveable barrier system will better mitigate traffic on one of the world's busiest bridges. It only takes about 30 minutes for a Road Zipper transfer machine to lift and laterally relay the barrier across the center lane, without damaging the road, to reconfigure the number of outbound and inbound lanes based on traffic flow for the estimated 38 million vehicles that pass over the bridge each year.
"The Road Zipper System provides a flexible, economical, safe, and lasting solution to traffic safety and mitigation issues that plague some of the world's most traveled roads, bridges, and tunnels," said Barry Ruffalo, president of Lindsay Transportation Solutions. "With this high-profile installation, our hope is that more road authorities will begin a discussion on how a moveable barrier can enhance safety for the motoring public, while providing more efficient lane management."
Since 1984, The Road Zipper System has reduced commuter congestion and improved roadway safety in U.S. cities including Boston, Dallas, Honolulu, New York, Philadelphia, San Diego, and Washington, D.C. It is used in countries around the world, including in Australia, Holland, Italy, New Zealand, Puerto Rico, and the United Kingdom.
For more information, visit http://www.theroadzipper.com
About Lindsay:
Lindsay manufactures and markets irrigation equipment primarily used in agricultural markets, which increase or stabilize crop production while conserving water, energy, and labor. The Company also manufactures and markets infrastructure and road safety products under the Lindsay Transportation Solutions trade name. Learn more at http://www.Lindsay.com
###