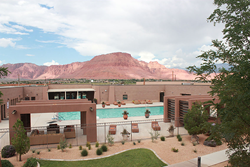 "The guests always come first, and as one of the top destination fitness resorts and spas in the world, I can assure you, that is one thing that will not change,"
Ivins, UT (PRWEB) February 04, 2015
The award-winning health and wellness weight-loss resort, Fitness Ridge in Ivins, Utah would like to announce that they are changing the name of their company from Fitness Ridge to Movara Fitness Resort and Spa.
"We have spent a lot of time talking about what a rebranding would do for our company," says co-owner Michelle Kelsch, "we have developed an amazing program through tons of great feedback from our guests and felt like renaming our resort was the best way to give us a complete rejuvenation. This update to our business will allow us to offer more and possibly expand into other areas."
Movara is inspired by the word "MOVE". Movara is such a great fit for us," said Michelle, "as our mission is to continue to move our guests closer to health, fitness and weight loss. Fitness Ridge will always have a place in our hearts, but we are very excited to move in a new direction."
From the moment our guests arrive at the resort they quickly realize that it's not just another "fat camp" or "fitness boot camp" but it's a real program designed to create a lifelong change for the better. Guests have the opportunity to eat right, exercise and learn what it takes to make the right choices when it comes to being healthy.
One thing Movara Fitness Resort will not change is the high quality atmosphere, the reputable fitness program, the tasty nutritious food, their great prices, and incredible staff that make the daily operations fun and exciting. Every week the guests are moved in many different ways.
"We are still the health and wellness resort that we have always been, we are simply doing what it takes to stay up to date with the wants and needs of our guests. In order to continue to offer the highest quality program we felt it necessary to make these updates," said co-owner and managing partner, Cameron Kelsch.
"The guests always come first, and as one of the top destination fitness resorts and spas in the world, I can assure you, that is one thing that will not change," says Cameron.
As part of their update and to show their appreciation, Movara Fitness Resort is giving away a free stay! The winner will get two, one-week stays at Movara Fitness Resort and Spa. You can enter to win on their website.
Movara Fitness Resort and Spa offers unforgettable hiking, fun and engaging fitness and exercise classes, incredible food and life changing education. For more information or to book your stay, visit http://www.movara.com. If you have questions, feel free to call (435) 673-6600. To experience what Movara Fitness Resort and Spa is all about, their reservation staff can be reached at (888) 870-2639.