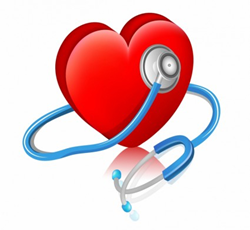 Heart health is a subject that everyone is concerned about, and it is something that each of us should address in our supplementation regimen.
(PRWEB) February 05, 2015
Gail Bowman, owner of Healthy Vitamins, stated, "There are several herbal and Omega 3 supplements that we use to help keep our hearts in good shape. This month we are very excited to offer those products at 45% off from New Chapter. Heart health is a subject that everyone is concerned about, and it is something that each of us should address in our supplementation regimen."
The cardiovascular system is an amazing network designed to provide all of your body's living cells with nutrients. It also transports waste products away from cells for elimination. The cardiovascular system is powered by the heart, which typically pumps oxygen-rich blood to every part of the body, including itself, 100,000 times a day. Blood travels through thousands of miles of blood vessels so every cell can get what it needs. These days, many people are taking more proactive steps to maintain their cardiovascular health. While the cardiovascular system may be complex, there are many simple steps you can take to support your cardiovascular health every day.
Experts generally recommend supporting your heart with healthy lifestyle choices that include a heart-healthy diet, such as limiting sodium and eating more high-fiber, low-fat foods such as fruits, vegetables, whole grains, and beans. It's also recommended to get regular physical activity, to maintain a healthy weight, and to get regular checkups.
Some of the Heart Health Supplements include:
Turmeric - According to Dr Don Colbert, "It is well known that endothelial dysfunction is a major cause of heart disease. Endothelial dysfunction is the ability of endothelium to control blood clotting, blood pressure and various other factors. Research indicates that curcumin helps to improve endothelial functioning. It prevents LDL oxidation, inhibits plaque formation in arteries and decrease inflammation in the heart. Turmeric also reduces the risk of blood clots and reduces bad cholesterol, which in turn prevents heart stroke."
CoQ10 - In April 2014, Life Extension published an article that reads, "The European Journal of Heart Failure (Mortensen S, Kumar A, Filipiak K, et al; 2013) has published data from one of the most robust studies to date on coenzyme Q10. This ten year study conclusively showed that CoQ10 supplementation significantly improves survival for even the most severe heart failure patients while radically reducing incidences of hospitalization. This new study shows that CoQ10 supplementation can restore deficient CoQ10 levels in patients with moderate-to-severe heart failure, extend lifespan, and improve quality of life. "
Omega 3 fats - In April 2013, NPR published an article that stated, "After controlling for factors like age, sex and lifestyle, the researchers found that, on average, adults with the highest blood levels of omega-3 fatty acids lived 2.2 years longer. In particular, these adults had a 35 percent lower risk of dying from cardiovascular disease – which is in line with other studies that have tied omega-3's to cardiovascular benefits. Higher levels of fatty acids were most strongly associated with decreased risk of coronary heart disease and stroke."
Garlic - According to WebMD, "Garlic is used for many conditions related to the heart and blood system. These conditions include high blood pressure, high cholesterol, coronary heart disease, heart attack, and "hardening of the arteries" (atherosclerosis). Some of these uses are supported by science. Garlic actually may be effective in slowing the development of atherosclerosis and seems to be able to modestly reduce blood pressure."
Gail Bowman has owned and operated Healthy Vitamins since 2003 and specializes in quality whole food supplements.