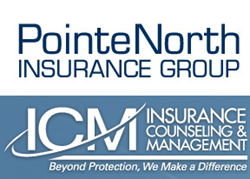 We share the philosophy of being trusted consultants and partners to our clients.
Atlanta (PRWEB) February 05, 2015
PointeNorth Insurance Group and Insurance Counseling & Management, Inc. (ICM) are joining forces.
Effective February 1, 2015, the company will operate as PointeNorth Insurance Group. The merger is the first of the year for PointeNorth and continues the insurance agency's strategy of seeking like-minded partners with complementary offerings.
Along with over 1,800 households and business clients, Insurance Counseling & Management, Inc. will bring an additional location in the metropolitan Atlanta area to the PointeNorth portfolio. Established in the 1920s, the agency has provided over 80 years of insurance and financial services expertise in its "Beyond Protection" approach to clients.
"We share the philosophy of being trusted consultants and partners to our clients," said ICM President & CEO, Richard P. Swerdlin. "Our combined talents and continued commitment to offering best in class products and services make us a formidable presence in Atlanta, Georgia and the Southeast."
Swerdlin will serve as a Senior Vice President of PointeNorth with a focus on Client Services and Business Development. He joins PointeNorth along with ICM's professional staff and Producers, Arnold Holzer, Jr., Rob Kornheiser and Tracy Holzer. ICM will continue its operation at the Fulton County location.
"With Insurance Counseling & Management's well rounded approach to serving its constituency, we continue to build upon our middle market and benefit expertise, while reinforcing what differentiates us from our peers," said PointeNorth President & CEO Bill Skeeles.
"PointeNorth Insurance Group is committed to the independent agency system and is positioned to continue to acquire and merge like- minded insurance professionals to become the premier locally owned Independent Agencies in the markets we serve," Skeeles said. "We continue to accelerate our growth strategy and create additional opportunities for partnering agencies and their employees."
For more information, visit http://www.PointeNorthins.com.