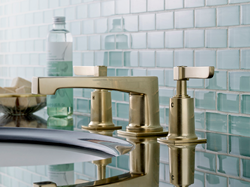 "Working with Mark Zeff was a great experience," said Avi Abel, president of Watermark Designs... "We love working with architects and designers and helping them craft collections that articulate their larger vision..."
Brooklyn, NY (PRWEB) February 04, 2015
Watermark Designs together with renowned interior designer Mark Zeff collaborated on the new collection that Zeff originally created for his own design project at 500 W 21st, a 32 unit luxury condo building with two penthouses and two duplexes.
The H-Line Collection combines the best of Watermark Designs custom capabilities infused with Mark Zeff's singular aesthetic. The faucets walk the fine line between historic and modern, the spout and single lever handles seeming to have been plucked from another era. The gently bowed-out square shape softens the classic contemporary design. The escutcheons are square with slightly rounded sides and they are engraved with letters – "H" for hot and "C" for cold. The exposed tub filler also has a knurled diverter lever.
"This collection is classic yet modern and very luxurious. The material has great weight; it feels wonderful in your hands and there is a real sexiness to it. Watermark took what I envisioned and articulated it perfectly. Their craftsmanship is exceptional which was so important to me," said Zeff.
"Working with Mark Zeff was a great experience," said Avi Abel, president of Watermark Designs. "When he approached us to manufacture a collection for 500 W. 21st, we knew right away that we wanted to be involved with the project. We love working with architects and designers and helping them craft collections that articulate their larger vision – and we couldn't be more pleased with how the faucets turned out."
About Watermark Designs
For more than three decades, Watermark Designs has been a leading manufacturer of decorative plumbing fixtures, bathroom accessories, lighting and elegant hardware for the luxury commercial and residential markets. Based in the independent design hub of Brooklyn and made in the USA, Watermark's designs are a reflection of the creative melting-pot from which they hail. As a true-manufacturer, their distinctive product quality is achieved using a combination of hands-on design and development combined with state-of-the-industry equipment. Combining sustainable product design with an eye towards architectural detail, Watermark has worked with some of the world's finest architects and designers, including the renowned Clodagh Design Studio. The ability to customize and create original product collections to meet client's exact specifications has made the Watermark ID program one of the industry's most successful. Watermark Designs' elite collections have been incorporated into some of the world's most exclusive residences, hotels and high-rises including the Ritz-Carlton, Shanghai; Trump Park Avenue, New York, NY; and The Eden Roc Hotel, Miami Beach, FL. Their Brooklyn collection, which was designed in collaboration with INC New York has even made its way to the South Street Seaport Museum, where it resides as a timeless piece of art. With their strong commitment to the environment, Watermark Designs aggressively invests in and develops new products with water-saving features while implementing environmentally-safe manufacturing practices. In 2014 they unveiled their newest collection called Elan Vital, a completely customizable collection that hearkens back to New York's industrial days combined with the best current technology. Visit Watermark Designs at http://www.watermark-designs.com.
About Mark Zeff
Based in New York City, MARKZEFF is an international, full-service design-consulting firm. Mark Zeff, founder and president of MARKZEFF approaches each project, from luxury yachts to the development of global brands and revolutionary hospitality ventures, with a holistic design methodology that embodies its natural fusion philosophy. Over the last 25 years, MARKZEFF has evolved from a residential design firm into one of the nation's leading multi-disciplinary boutique design agencies. MARKZEFF is counted among the Top-200 Interior Design Giants and the top 75 Hospitality Giants in Interior Design magazine.
For additional information, contact DRS and Associates at 818.981.8210 or http://www.drsandassociates.com.